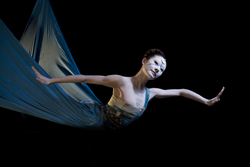 San Francisco (PRWEB) March 9, 2010
San Francisco Ballet will present the United States premiere of John Neumeier's The Little Mermaid, a modern and mature interpretation of the original Hans Christian Andersen story. Over nine performances, from March 20–28, the Company will perform the visually stunning and deeply dramatic full-length ballet. Choreographed by renowned Hamburg Ballet Director and Chief Choreographer John Neumeier and set to a commissioned score by Lera Auerbach, the production features innovative scenery, lighting, and costumes, also designed by Neumeier. The Little Mermaid presents a haunting tale of two divergent worlds and promises to be one of the highlights of the 2010 Repertory Season.
To watch a brief, behind-the-scenes video about the production visit sfballet.org/interact.
For more information or to purchase tickets, visit sfballet.org or call 415.865.2000.
San Francisco Ballet
As America's oldest professional ballet company and one of the three largest ballet companies in the United States, San Francisco Ballet has enjoyed a long and rich tradition of artistic "firsts" since its founding in 1933. It performed the first American productions of Swan Lake and Nutcracker, as well as the first production of Coppélia choreographed by an American choreographer. Guided in its early years by American dance pioneers and brothers Lew, Willam, and Harold Christensen, San Francisco Ballet currently presents more than 100 performances a year locally, nationally, and abroad. Under the direction of Helgi Tomasson for 25 years, the Company has achieved an international reputation as one of the preeminent ballet companies in the world. In 2005, San Francisco Ballet won the prestigious Laurence Olivier Award, its first, in the category of "Outstanding Achievement in Dance," for its 2004 London tour. In 2006, San Francisco Ballet was the first non-European company elected "Company of the Year" in Dance Europe magazine's annual readers' poll. In 2008, San Francisco Ballet celebrated its 75th anniversary with a host of initiatives that included a New Works Festival of 10 world premieres by 10 renowned choreographers. 2010 marks the twenty-fifth year of SF Ballet Artistic Director & Principal Choreographer Helgi Tomasson's tenure with the Company.
###