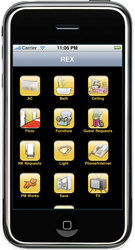 The Most Innovative Hospitality Technology Award
MIAMI (Vocus) March 9, 2010
Which technology most impacted the hospitality industry in 2009? According to leading industry technologists, it was REX (Room Expeditor) from MTech. The leading developer of Software as a Service (SaaS) products aimed at improving service and efficiency for the hospitality industry was presented with "The Most Innovative Hospitality Technology Award" by Hotel Technology Next Generation (HTNG) during its North American Members' Meeting on March 3.
REX is the first hospitality application to revolutionize the housekeeping room assignment process and effectively change how room attendants work. Operating on the Apple iPhone/iPod Touch platform, REX helps housekeeping departments turn rooms faster and provide room customization. Room attendants no longer receive a board with rooms to clean, but rather, using an iPod Touch, they are presented with their next room only (in their native language) -- the most important room to clean based on hotel defined criteria like room rush, VIP status, room type, etc. Proven in union environments and integrated to the property-management and energy-management systems, REX saves a great deal of otherwise wasted effort and labor expense, and gets guests into rooms faster.
"This award validates that MTech leads the charge with REX as yet another cost-saving innovation for the hotel industry," said Luis Segredo, MTech Founder and President. "This is just one of many cost-conscious solutions that MTech provides or has in development. The company has been recognized by Microsoft repeatedly in the past for its work on Espresso! and HotSOS, but this is different and more important in a special way. The HTNG award represents recognition directly from the people who use the technology and benefit from the value, and this is our ultimate audience. We are very thankful for their recognition."
"REX is not just a new product, but instead a new product segment," Segredo said. "Past attempts to wirelessly enable room attendants have applied technology to the paper workflow. REX changes the paradigm of cleaning rooms by dramatically changing the workflow and the intelligence made available by significant system integration."
REX works in tandem with MTech's Hotel Service Optimization System (HotSOS), making it very easy for room attendants to report faults in the room using icons. REX also can be used with MTech's Internet-based Quality Inspection Console (QIC) to bolster the inspection of guestrooms.
Douglas Rice, HTNG EVP and CEO had this to say: "The team at MTech should be very proud of their accomplishment in winning this award. Many of our hotelier members commented that the decision was not easy. Winning this award in the face of such strong competition is quite a feat."
Hoteliers Hail Innovation
The first year for this designation, the award is designed to determine and acknowledge the most innovative technologies created by an HTNG member company within the hospitality industry in a given year. Because the decision is made by the hotelier members of HTNG and not a small panel of judges, it is indeed the award that hotel technologists have found to be the most innovative.
Hotelier members of HTNG voted for the technology of choice at the 2010 Members' Meeting, and winners were announced on the second day during the General Session.
The award was judged on the following criteria:

Products can be any technology that is available for use at individual hotel properties or hotel groups: guest-facing, front-of-house, back-of-house, distribution-related, or others.
Product must have been available for sale by no later than 1 October of the year prior to the year of award. Because this is the first year, products from 2008 are also eligible. (Product entered must have been released between January 1, 2008, and October 1, 2009, to be eligible for the 2009 award).
Submitted technologies must have been developed, assembled, or integrated by the applicant company. Companies that co-developed a product may submit their product jointly.
For more information on REX or any of MTech's other coveted solutions, visit http://www.m-tech.com.
###