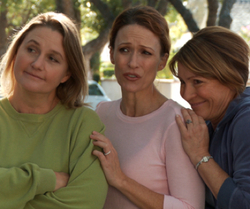 "CHAPIN CIRCLE is commerce-ready. We know our demographic is WOMEN - and that's who's tuning in.
Beverly Hills, CA (PRWEB) March 23, 2010
CHAPIN CIRCLE, the Internet Television Series For Women, now airing its first two episodes at http://www.ChapinCircle.TV has thousands of viewers worldwide, hundreds of fans on Facebook and Twittter and dozens of new "newsletter" signups every day. "All we need now is a sponsor", says Executive Producer Paul Prissel (an attorney and Harvard Grad who served as the Assistant Secretary of Commerce and Trade for former Virginia Governor now Senator Mark R. Warner). "CHAPIN CIRCLE is commerce-ready. We knew our demographic - WOMEN - and that's who's tuning in. We have three additional season one episodes completed and ready to air. The stage is set".
CHAPIN CIRCLE brings to life the day-to-day experiences of four fictional women in various stages of life. Conceptualized to be "new TV – the way it used to be," each episode offers great characters with compelling personal stories in a unique viewing format that allows you to watch full episodes (10-15 minutes in length) or choose a new option, "Character Selection," that enables you to watch an abbreviated version of every episode featuring your favorite character. (For more detailed info on the show and how it developed see http://news.yahoo.com/s/prweb/20090929/bs_prweb/prweb2900144)
"It's not the sort of video content people are used to seeing on the Internet. It's network-quality television - visually, acting-wise, story-wise", says creator Michele Palermo, a critically acclaimed playwright-come television and film scribe. "We just do it a little differently than the networks. I write an hour's worth of story into 10 or 15 minutes and we produce it for a tiny fraction of what it would cost them."
And they have to. Palermo and Prissel (partners in business and life – they are married, ten years this past July) self-financed the first five-episode season of CHAPIN CIRCLE. "It was a no-brainer," says Prissel. "We both believed in the show – it was great storytelling, we knew women would watch it and love it – and that's happening. Now, it's a great opportunity for the right sponsor".
Critics agree. Gennefer Snowfield, a TV reviewer for Tubefilter News blogged, "I could envision consumer packaged goods woven into the show with coupon codes or eCommerce pull-through for products featured. And it certainly seems like the type of series that Target or JC Penney might sponsor." Palermo, who is currently busy writing season two, concurs – and is excited to embrace that possibility. "CHAPIN CIRCLE could definitely become a 'signature show' for the right sponsor - and it would be a great challenge for me, as a writer."
Season one, now playing at http://www.ChapinCircle.TV, has eighteen video ad opportunities alone per episode (six in Spanish) between full episodes - in English, Spanish (subtitled) and Hearing Impaired (English subtitles) – and the mini-character versions (subtitled in Spanish and English) - plus banners - so the right sponsor should be just around the corner. After all, CHAPIN CIRCLE isn't just a show about four women. It's about four women in four different decades of life – 20's, 30's, 40's and 50's. "Heather's getting married, Annie's trying to have a baby, Becca gave up her job to raise her kids and struggles with that decision and Susan's raising a teenager and trying to save her marriage while going through menopause," says Palermo. "These are real stories about real women in real situations. A show that speaks to the women out there raising families – or not – working to keep relationships alive, going through life changes… every viewer seems to see herself in at least one of the characters."
CHAPIN CIRCLE sounds like the perfect neighborhood for sponsors. http://www.ChapinCircle.TV
###