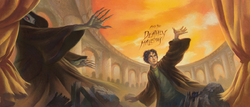 "It's really the closest thing that I get to do to being a kid as an artist," GrandPre says.
Ogden, UT (PRWEB) March 10, 2010
Sanders Art Studio, a publisher and gallery of Fine Art. Located in Ogden, Utah and online at http://www.SandersArtStudio.com, announces the release of the "The Harry Potter Book Cover Art Series." The images are taken directly from esteemed artist Mary GrandPre's illustrations of J.K. Rowling's seven-book Harry Potter series.
The images, all originally drawn and painted by GrandPre, chart seven years of experiences for Harry Potter at Hogwarts School of Witchcraft and Wizardry. The originals have been reproduced as fine-art giclees and are available in an edition of 500 signed and numbered works. The image size measures 11 x 25 inches, and the overall prints are 15 x 29 inches.
GrandPre began her career as a conceptual illustrator after graduating from the Minneapolis College of Art and Design. In 1997 she was approached by Scholastic to create the cover art for "Harry Potter and the Sorcerer's Stone." "We weren't even sure it would be a series," GrandPre recalls. "We didn't know how popular it would be. After I read it, I was pretty psyched about the story, and I wanted to do the cover; so it just went from there, and it turned into this phenomenon."
Although she had always had plenty of work as an illustrator, the success of the Harry Potter series brought GrandPre more notoriety than she had ever known. She found herself becoming more drawn toward children's literature because of the freedom it offered.
"It's really the closest thing that I get to do to being a kid as an artist," GrandPre says. "The subject matter is light-hearted, and it can be anything from funny to beautiful to poignant, and the art can match that."
In addition to Harry Potter, GrandPre has illustrated 13 other children's books.
"I think that when you can help a child appreciate literature and make him excited about a story, and bring things to life for him, and make his imagination soar, you can feel really happy about that, and I do," GrandPre says.
Click here to see over 34 Harry Potter Images from the films and book series.
TM & (C) 2008 Warner Bros. Entertainment, Inc.
Harry Potter Publishing Rights (C) J.K. Rowling. ©Clampett Studio Collections
###