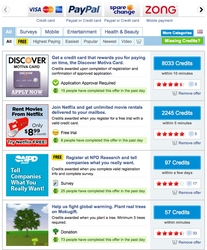 Boomerang was able to provide offers that helped us monetize our international users better than other offer providers that had few or no native offers for these markets. -Markus Weichselbaum, CEO of TheBroth
San Francisco, CA (PRWEB) March 9, 2010
Boomerang Networks, a next generation company in the virtual currency monetization space, today announced the launch of "Offerwall"— the industry's first user-driven virtual currency monetization platform. With Offerwall, users can rate the virtual currency-giving offers. Good offers float to the top and bad offers are kicked off the system. Offerwall is also the only virtual currency solution in the market today with a full set of international offerings. Offerwall works with 120+ ad networks relevant in 160 markets around the world, so users will always find local offers. Offerwall offers true real language localization and global customer support.
"We are focused on creating the best user experience in this space. Offerwall brings the transparency, integrity and user engagement that is essential to winning the trust of users and sustaining the growth of the industry," said Honor Gunday, the founder and CEO of Boomerang Networks. "By putting the customer first we can help game developers increase their revenue right off the bat as well as maximize the lifetime value of their users."
Offerwall is targeted at users who play games on social networks, virtual worlds, and casual web games. Offerwall introduces a new approach to improving the experience of these users as they consider and complete advertising offers in order to earn virtual currency:

Users can rate each advertising offer, giving it a thumbs up or thumbs down. Based on their experience, users can also write reviews and comments, which are then visible to the entire community of users. This feedback is used by Offerwall in the algorithm that sets the order in which advertising offers are displayed -- thereby the best offers rise to the top and others get pushed down or eliminated all together. If the user gives a thumbs down to an advertising offer, that particular offer, as well as similar offers, are never presented to that user again. And users love this -- in the short period of time that this functionally has been available, users have entered 40,000 thumbs up and thumbs down ratings and created 20,000 reviews, averaging about 20 reviews per advertising offer.
Offerwall is bringing unique and interesting advertising offers to users. Offerwall has a direct sales team that works with advertisers to create offers that are tailored to the tastes and preferences of its users. For example, Offerwall has established an exclusive relationship with Moku Gifts – users can donate a small sum to this non-profit organization and in turn Moku Gift plants a tree in the users name in a location of their choice. To date, our users have used this unique advertising offer to plant over 750 trees in underdeveloped countries, while earnings virtual currency at the same time.
Joel Auge, the CEO of HitGrab, Inc., the game studio behind the award winning game MouseHunt said, "We have been using Offerwall for some time now and have found them to be great monetization partners. Offerwall has conducted itself with great integrity, with the user and developer at the forefront of the decisions they make. Offerwall monetizes our users very well and we have found they leave no stone unturned in getting the best results possible, Monetization of North American users is good and they have gone a step further and managed to very successfully monetize users in international markets we would otherwise not reach. When our users are happy they vote with their wallets and it is a win win situation for all involved"
Offerwall specifically addresses the unique needs of international users. Offerwall supports users in 160 countries by providing an experience that is tailored to the users' country:

Offerwall has been translated into all major languages including German, French, Italian, Spanish, Mandarin, Hindi, Vietnamese, Tagalog, and Russian. Each translation was completed by a native speaker, ensuring accuracy and consistency with local customs.
Offerwall has built partnerships with international payment providers, thereby expanding choices for users in those regions. For example, Offerwall is the only virtual currency monetization platform that accepts Cherry Credits. In Southeast Asia, Cherry Credits is a popular online payment provider preferred by many users.
Offerwall's European sales team is working directly with advertisers in that region to develop advertising offers that are relevant to European users. For example, Offerwall works with Madeniyet, a popular MMO gaming company in Turkey. This offer is only available through Offerwall.
Markus Weichselbaum, the CEO of The Broth, developers of the hit game Barn Buddy which has over 7 million users per months said, "For us, being able to have native offers for countries in South East Asia was important, and Boomerang was able to provide offers that helped us monetize our international users better than other offer providers that had few or no native offers for these markets. I liked the full localization, the ability for users to provide feedback for other users, their excellent customer support and their sophisticated efforts to combat fraud."
Boomerang Networks will be at GDC in San Francisco March 9 to 13, 2010. Anyone interested in meeting with Boomerang Networks to discuss Offerwall can contact the company at (GDC@BoomerangNetworks.com) or follow them on Twitter @goboomerang.
About Boomerang Networks
Boomerang Networks is the next generation of virtual currency monetization platform. Their first product, Offerwall, provides a simple and quick integration, customizable UI, and robust reporting metrics with database access to give developers full control. The Boomerang Networks team comes from an extensive background within eCommerce, social networking, online gaming and payments industry. Boomerang Networks is headquartered in San Francisco, CA with offices in Kiev, Ukraine.
PRESS CONTACT:
Mel Marquez
Director of Marketing
415-646-6982
###