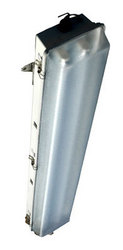 Kemp, TX (Vocus) March 10, 2010
Larson Electronics' magnalight.com announced the addition of the HALP-48-2L-LV and the HALP-48-2L-LED low voltage lights with UL 844 Class 1 Division 2 ratings for Groups A, B, C and D. The HALP hazardous location lighting now comes in three distinct versions, including: the standard 4 foot fluorescent model with T5HO, T12HO or T8 bulbs for voltages ranging from 120 volts to 277 volts; the 4 foot fluorescent model operating on 12 or 24 volts with a T8 bulb; and finally, the HALP-48-2L-LED hazardous location LED light, which operates on 120 volts to 277 volts for the high voltage model and 12 or 24 volts for the low voltage model. The HALP series of hazardous location lights is characterized by its lightweight, polyester blend housing and impact resistant lens, which makes it applicable for areas with corrosive materials, including saltwater, chlorine or other chemicals which can oxidize or corrode aluminum or steel.
"We continue to see growing demand from 12 volt and 24 volt explosion proof and hazardous location lighting," said Rob Bresnahan with Larson Electronics' magnalight.com. "We have addressed this requirement with our EPL-48 and EPL-24 series of Class 1 and Class 2 Division 1 explosion proof fluorescent and LED lights and now we are doing the same with our corrosion resistant line of UL Class 1 Division 2 linear fluorescent lighting. We offer Class 1 Division 2 fluorescent lights with stainless steel housing or the polyester blend housing, however most people gravitate towards the polyester blend housing, due to cost, especially if they don't have a high vibration environment."
Larson Electronics' mangalight.com offers a wide range of explosion proof lights and hazardous location lighting. Ranging from UL Class 1 Division 1 linear fluorescents to cart mounted 400 watt tank lights, magnalight.com can be a sole source for operators in the industrial, military and contractor sectors. The wide range of surface mounted, portable and rechargeable incandescent, fluorescent and LED lighting for hazardous location areas is complemented with a wide range of standard area lighting and explosion proof ventilation blowers. You can learn more by visiting magnalight.com or contacting 1-800-369-6671 (903-498-3363 international).
###