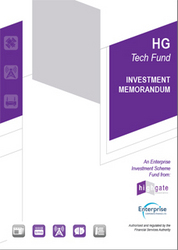 I am delighted to be working with the Highgate team in launching the HG Tech Fund. The ethos of this Fund represents the intrinsic sentiment behind EIS, being to foster & encourage private sector investment into growing British Companies.
(PRWeb UK) March 12, 2010
Highgate Associates and Enterprise Corporate Finance today announces the availability of a new and distinctive EIS Fund (HG Tech Fund) that is designed to maximise value for investors and investee companies. The fund is open to sophisticated investors who have a minimum of £10K to invest and who are looking to enhance their investment portfolio with exposure to high growth UK High Tech businesses with the 'famous five' EIS tax breaks.
HG Tech Fund is different on two counts, one being that it reforms the way that fees are charged. Unlike most other EIS funds, the HG Tech Fund is designed to ensure that the full value of investor funds receives 100% EIS relief, as opposed to the standard industry procedure to net off initial charges plus a further 17.5% VAT which could add up to 8% or so of investors' funds. Investors in the HG Tech Fund will obtain 100% tax relief on the value of their investment.
Secondly, Highgate and its principals have an established and successful track record of investing their own money, as well as that of co-investors - this team knows how to build profitable businesses, globally. The fund managers are experts in the technology field, with many years of successful high tech company experience. HG Tech Fund Managers have established, grown and exited a number of high tech businesses between them.
The HG Tech Fund also offers a completely different and more rewarding experience for the investee businesses, as well as the potential for better results for investors and companies alike. In addition to their expertise, the fund managers offer investee companies a helping hand with financial management, marketing and, where needed, senior level management to ensure that the investee companies grow and meet the financial targets using the funding that is provided to them to the maximum benefit. In short, the HG Tech Fund will help formative technology businesses with good ideas to realise their potential more quickly.
Highgate is prepared to put its money where its mouth is by way of its incentive to deliver strong performance to investors. Before the HG Tech Fund can take any profits itself, it will have had to deliver a minimum of 6% annualised return to investors. Fund Managers are themselves investing in the Fund, so putting their own money where they believe they can succeed. The fund will be managed completely transparently ensuring that Investors are kept informed about the performance of their investments regularly. And this is all in addition to the very attractive tax benefits offered by EIS investments.
Susan Phillips, Director General, EIS Association says "I am delighted to be working with the Highgate team in launching the HG Tech Fund. To my mind, the ethos of this Fund represents the intrinsic sentiment behind the Enterprise Investment Scheme, being to foster and encourage private sector investment into growing British companies... It is not just about spotting a winning technology but understanding its market and, above all, working with the management to get ahead of the competition, market the product successfully, drive the company forward, add in necessary skills where needed and keep the company on track."
The HG Tech Fund is open now for new investment and has its initial close on 4th April 2010. The portfolio will aim for a spread across a number of investee companies and to be fully invested as quickly as possible so that investors can claim their EIS tax relief promptly. The Fund is looking to deliver a return to investors within a three to five year investment window, with a roll-over opportunity to maximise the IHT and CGT potential. The Fund is advised by Enterprise Corporate Finance, established in 1992 to advise EIS companies and with significant expertise in the sector.
The HG Tech Fund offers very competitive terms for investors and an excellent support infrastructure for investee companies alike, which means it breaks the mould of typical EIS Funds.
End
For further information please contact Andrew Muir on 07785 393583 or amuir(at)hgtechfund(dot)com or visit http://www.hgtechfund.com
Highgate Associates
Highgate Associates was established in 2001 by Andrew Muir and Ken Nelson, each having over 25+ successful years dedicated to starting and building technology companies globally.
Andrew Muir and Ken Nelson co-chair the Fund Investment Committee and work closely with Enterprise in allocating EIS Funds to the investee companies and managing the Fund investments. Highgate's senior Financial Director, Henk Nieuwenhuizen, oversees all investments made by the Fund to ensure proper accounting and disclosures.
http://www.highgateassociates.com
Enterprise Corporate Finance Limited
Enterprise Corporate Finance Limited is an investment adviser specialising in and predominantly working with unquoted investments. Its principal, Susan Phillips, has a background in investment management and for 17 years has specialised in financing, advising and mentoring unquoted companies across a wide range of industries. Susan is a recognised leader in the EIS community and acts as Director General of the EIS Association. http://www.enterprisecf.com
Authorised and Regulated by the Financial Services Authority
Enterprise Corporate Finance Limited is authorised and regulated by the Financial Services Authority, 25 The North Colonnade, Canary Wharf, London E14 5HS. This information is communicated on the basis that participants in investments managed or advised by Enterprise Corporate Finance Limited should be sufficiently expert to understand the risks involved and understand that they may not be covered by the rules and regulations made for the protection of investors in the UK. Past performance may not necessarily be repeated and is no guarantee or projection of future results. This is not an invitation to invest. Any investment must be made on the application form and on the terms set out in the Investment Memorandum dated March 2010.
Your attention is drawn to the risk factors on page 21. Unquoted investments can be difficult to sell and it can be difficult to obtain accurate information as to their worth or risk profile. This communication is provided for informational purposes only and should not be construed as an invitation or offer to buy or sell any investments. No recommendation is made, positive or otherwise, regarding individual investments. Any decision to invest should be made only on the basis of the relevant documentation for each investment. No contracts may be concluded on behalf of Enterprise Corporate Finance Limited by means of email communications. This information in this document and any attachments is confidential and may be legally privileged. It is intended only for the individual or entity named.
###