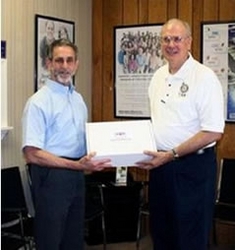 Extensive research has shown that the earlier children with hearing loss get hearing aids, the more likely they are to acquire the education and skills they need to become productive members of society
Bristol, PA (PRWEB) March 10, 2010
With their latest contribution in March 8, 2010, America Hears, Inc., has made donations of more than 470 used hearing aids to Help the Children Hear, a Rotary International Foundation project established, designed, and created by Rotarians, through a Rotary International matching grant, to provide hearing assistance to needy children. This project has now become a tax exempt 501 (c)(3) corporation. America Hears offers incentives of up to $100 to trade in any brand of old hearing aids to customers who purchase digital hearing aids from America Hears, and the company is donating all of the trade-ins to Help the Children Hear.
Help the Children Hear, Inc., was established by Rotary Clubs in New Jersey and in Tucuman Sur, Argentina, to provide hearing assistance initially to lower-income hearing impaired children of Tucuman Province, and ultimately to children throughout the world. Donated hearing aids are reconditioned and given to children who need hearing assistance.
"Extensive research has shown that the earlier children with hearing loss get hearing aids, the more likely they are to acquire the education and skills they need to become productive members of society," said America Hears President and Founder Henry C. Smith. "We are proud that our customers' donations are supporting needy children with the gift of better hearing, as well as Rotary International's stated goal to help 'stop the cycle of illiteracy and poverty.'"
America Hears President and CEO Henry C. Smith Sr. made the inaugural donation to the Rotary Club's Michael J. Buchheit in August of 2008.
About America Hears, Inc.
America Hears is the only manufacturer of premium digital hearing aids that sells directly to consumers over the Internet and supports them with its own staff of experienced audiologists and licensed hearing aid fitters. America Hears also offers a free hearing test in their state-of-the-art fitting center at their Bristol location. The Independence line of digital hearing aids offers the most advanced digital sound processing technology in a broad range of product models, including popular new open fit and receiver in the ear designs. Because America Hears sells directly to the public, it is able to price all of its models at much lower cost than comparable premium digital products.
# # #