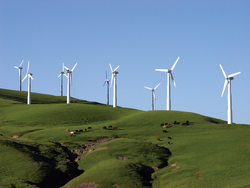 In a carbon-constrained environment, there is a need for people knowledgeable about energy systems, climate change science, carbon management, and climate change policies
Washington, DC (PRWEB) March 11, 2010
The Johns Hopkins University today launched a master of science degree in energy policy and climate. Based at Johns Hopkins' Washington, D.C. Center near Dupont Circle, the part-time graduate program addresses the challenges of climate change and sustainable energy systems.
"In a carbon-constrained environment, there is a need for people knowledgeable about energy systems, climate change science, carbon management, and climate change policies," said Eileen McGurty, associate program chair of Johns Hopkins Environmental Studies Programs. "We're looking to help prepare the next generation of interdisciplinary professionals to address this need."
The energy policy and climate degree consists of nine graduate courses and one capstone project. The four required courses are science of climate change and its impact, climate change policy analysis, energy production technology, and carbon management and finance.
This program is rooted in the Morton K. Blaustein Department of Earth and Planetary Sciences of the Zanvyl Krieger School of Arts and Sciences. Oversight by the eminent faculty of this department sustains the academic integrity and excellence of the program. Courses are taught by distinguished instructors with valuable experience in the academic, public, and corporate sectors.
About the Environmental Studies Programs at Johns Hopkins Advanced Academic Programs
In addition to the master of science in energy policy and climate, The Johns Hopkins University offers a master of science in environmental sciences and policy (ES&P) that offers a broader curriculum related to all areas of environmental practice, and a graduate certificate in geographic information systems. Courses are offered at Johns Hopkins' Washington, D.C. Center, at the Homewood campus in Baltimore, and online. For more information, visit http://www.environment.jhu.edu.
# # #