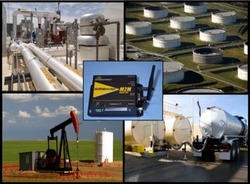 "Before when we had to install new equipment at the site, it would take several hours to unpack and assemble the equipment and half a day to complete the installation. With the AVIDwireless solution the equipment came completely wired and ready to install
Dallas, TX (PRWEB) March 10, 2010
AVIDwireless, a leading provider of wireless remote control and monitoring solutions, today announced they are introducing a new economical easy-to-install solution for tank and well monitoring. One AVIDwireless customer is quoted as saying, "Before when we had to install new equipment at the site, it would take several hours to unpack and assemble the equipment and half a day to complete the installation. With the AVIDwireless solution the equipment came completely wired and ready to install. I had the solution installed and working in about 30 minutes."
These new packaged solutions are aimed at saving time and money for large and small companies involved in the oil and gas industry. The AVIDwireless solution comes completely configured for the specific needs of each site. Each solution is targeted at specific pieces of equipment at the site such as Oil Tank depth, Water Tank depth, Pressure and Pump amperage. Each piece of equipment can be monitored using either a wired or wireless connection to make it easy to add additional monitoring to the central controller-AVIDdirector-M2M. The Controller, which is the heart of the system at the remote site, follows user configurable rules to monitor and send information to the cloud-based web-monitoring server through cellular, satellite, or other standardized network protocols. Since the package is adapted to a specific customer, the delivered equipment is ready for the customer to attach to the tanks or motors on-site and power up.
AVIDwireless offers a complete package to their customer, which means that it also includes wireless data service so the customer does not need to worry about contacting their wireless provider and adding additional services to their plan. At the same time the package can come without the wireless charges, making it an attractive offering for resellers, service providers and wireless carriers that have a telemetry or M2M services group.
Rod Montrose, founder and CEO of AVIDwireless says, "We take great pride in providing wireless solutions that help our customers improve processes. Adding the ability to offer a complete packaged solution that is tailored to their specific needs is a win/win for the customer and the environment." By closely monitoring tank levels and equipment usage, AVIDwireless can alert support personnel of potential problems even before they occur. This helps save the company money by eliminating costly EPA fines from spills and loss of production from equipment breakdown.
The web-monitoring software provides site owners, and site management companies with the ability to monitor all sites 24 hours a day without the need to send Maintenance Staff or Pumpers on site to monitor levels or equipment usage. Now the companies can be assured that the equipment is functioning within normal parameters without ever leaving their office. As one AVIDwireless customer stated, "I'm amazed at the ability to sit at my desk here and see what is going on at the lease site in West Texas. This gives me a level of management I haven't seen before. Normally we would arrive on site and the motor would be completely broken down requiring us to replace it. This would cost us around $14,000 or more, in addition to the down time waiting on the new equipment to arrive. Now when the amount of amperage on the motor reaches the targeted level we know there is an issue and can service it in a timely manner which will save the equipment."
The AVIDwireless solutions normally include a central controller (AVIDdirector-M2M) and several wired or wireless sensors such as ultra sonic depth sensors or power monitor sensors. The package can be powered from on-site power or comes with optional solar panels for battery power and recharging. The savings provided to the customer through better use of maintenance personnel, loss of equipment, downtime and prevention of EPA fines gives a rapid return on investment (ROI) to even the smallest of well owners.
For more information on the AVIDwireless solution for oil and gas visit their website at http://www.avidwireless.com.
About AVIDwireless:
AVIDwireless, a division of VoiceDataWare, Inc. has fast become the company that corporations turn to for delivering solutions that connect business with remote and mobile equipment and assets. AVIDwireless a recipient of 2009 Inc. Magazine 500|5000 award, the M2M 100 for the last five years and the Dallas Top 100 Fastest Growing Companies in 2007/2008, is located in Bedford, Texas, a suburb of Dallas/Fort Worth. AVIDwireless provides a cohesive product line of solutions focused on Wireless Temperature Monitoring, Intelligent Tracking, Wireless Tank and Well Monitoring and Smart Utility Monitoring. All AVIDwireless solutions are built around a standard set of products: AVIDdirector®, AVIDdashboard™ and AVIDSmartSensors™. These products are utilized to provide customers with a rapid return on investment along with the means to provide more informed and faster decisions. Further information about AVIDwireless products and services can be found at http://www.avidwireless.com.
###