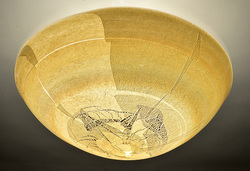 "We are always searching for the next big thing in lighting," says Michael Pinkowski, director of marketing, ATG Stores, "and were immediately drawn to re•cesso's ability to instantly makeover a room."
Tacoma, WA (PRWEB) March 11, 2010
Transforming a room's dated recessed lighting into an artistic showpiece is a new concept ATG Stores (http://www.atgstores.com), the leading online source for home furnishing and fixtures, is banking on with the launch of re•cesso lights™, a collection of glass and resin fixtures that instantly convert existing recessed lights into beautiful works of illumination art. Opening a new category of lighting, re•cesso's patent-pending lights take a 40-year-old industry standard, the recessed can light, and give it an unprecedented makeover. New re•cesso lights fit around the outside of any existing or new 6-inch recessed can (no matter the make or model), including new LED lights.
With no electrician needed, mounting the fixtures is easy with do-it-yourself hardware that includes a patent-pending locking ring and three screws. The ring is screwed to the ceiling around the recessed lighting can and instantly the space takes on a whole new look.
Re•cesso uses the locking ring to secure a series of artist blown glass, hand-slumped glass, and hand-painted resin lights. Easy to hang, these new decorative illuminations add a fresh aesthetic to existing recessed lighting without touching the original light.
"We are always searching for the next big thing in lighting," says Michael Pinkowski, director of marketing, ATG Stores, "and were immediately drawn to re•cesso's instant makeover possibilities. Gorgeous and easy to install, these lights give consumers the ability to redecorate in minutes, without a messy renovation. The idea that existing recessed lights can be repurposed into something this spectacular is a concept we are eager to share with our customers." Pinkowski expects the artisan quality of the fixtures, which are made by glass artists in the Pacific Northwest, to wow the site's customers. "There's nothing else like it on the market," he added.
Invented by environmentally conscious Seattleite, Cheryl Engstrom, who for years obsessed over her home's dated recessed lighting, re•cesso lights add a custom artisan look to existing recessed fixtures. "In many homes, like mine, recessed lights, while functional, are an eye-sore. With re•cesso, people can freshen and enliven their homes without remodeling," says Engstrom, president of re•cesso lights. "And the best part is our lights require no complicated installation. If you can install three screws, you can hang these lights, without even turning off the electricity since you never touch the wiring."
Mining the area's talented glass artists, the initial collection includes hand-blown glass (above right) in four standard colors and three shapes, plus fused glass in natural arcs (above left) in several patterns that are perfect for hallways. Square fixtures (below right) for smaller spaces offer a distinctive pop of warm color in fused glass.
In addition to glass, re•cesso uses poured and hand-painted resin (below) to create cylindrical shapes in colors and patterns that mimic nature's dark reed, birch and warm linen hues.
"Millions of homes across the country have dated and glaring recessed lights," says Engstrom. "re•cesso's innovative hanging system provides a design solution that eliminates the need for those lights to end up in the landfill. Instead, they can be left in place and completely transformed without the extra cost of remodeling or electrician fees."
To purchase, visit http://www.lightinguniverse.com and click on "recessed lighting" and then "decorative upgrades" or enter "recesso" in the search box.
About re•cesso
Recently introduced to the commercial, healthcare and hospitality design industry, select re•cesso lights are now available to consumers at http://www.lightinguniverse.com and several other sites operated by ATG Stores including, http://www.americanmadelighting.com, http://www.ceilingfixturelighting.com, http://www.contemporarylightingstore.com, http://www.designerlightingportfolio.com, http://www.recessedcanlightingshop.com, http://www.homelightinguniverse.com. Custom orders are available through interior designers only. Designers interested in learning more about re•cesso solutions should contact sales (at) recessolights (dot) com to find a sales representative in your area or visit http://www.recessolights.com. re•cesso lights™ hold US Patent-Pending status and is a wholly owned subsidiary of Brighter Ideas, LLC™, a Pacific Northwest innovations company.
###