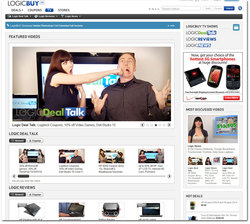 When we launched LogicBUY.com, we wanted to make sure that the site was not only simple to use, but that it offered the most effective tools we could make available
Orange, Calif. (PRWEB) March 10, 2010
LogicBUY.com, a free information service that empowers shoppers with a unique model to track special sales, coupons, and price drops from numerous online merchants, today announced that it has launched a new video portal – LogicBUY TV (http://www.LogicBUY.com/tv).
LogicBUY TV complements the robust features of LogicBUY.com with three "shows" that each bring a unique perspective for the community of shoppers looking to be entertained, gain tips to save money, while learning about technology.
Available for viewing now, the debut shows of LogicBUY TV are:
DealTalk hosts Natalie Warren and Stuart Cambell discuss the best deals currently available on LogicBUY.com to help viewers make educated decisions about their purchases.
Natalie Warren brings viewers an irreverent new perspective on the technology news of the day on Logic News.
The entire LogicBUY.com team breaks down the latest technology available on the market with in-depth reviews Logic Reviews.
LogicBUY TV shows are updated every week help keep LogicBUY.com shoppers educated on all of the latest happenings, products and other important information about today's technology.
Together with the site's popular Hot or Not Voting System, Product Ratings, Deal Alerts, and Enhanced Search capabilities, LogicBUY TV makes LogicBUY.com the most cutting edge deal and coupon community available on the net.
"When we launched LogicBUY.com, we wanted to make sure that the site was not only simple to use, but that it offered the most effective tools we could make available," said Thai Tan, co-founder of LogicBUY.com. "The launch of LogicBUY TV takes our innovation to the next level by educating our customers while also entertaininging them."
To witness the new revolution in online shopping and research, visit http://www.LogicBUY.com
About LogicBUY.com Team
A dedicated team of technology enthusiasts who will make sure you never pay full retail price again. We wish to provide the highest level of service to our users, 24 hours a day, 7 days a week, all for absolutely free. Visit http://www.LogicBUY.com.
###