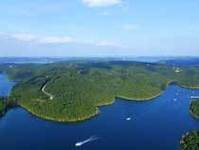 Branson, Missouri (PRWEB) March 10, 2010
HCW Realty ("HCWR") headquartered in Branson, Missouri, with offices at the Branson Landing lifestyle center and at Branson Hills, home of the Payne Stewart Golf Club, announced today that it has entered into a sales and marketing agreement with Steed Communities, Inc ("SCI") to promote and sell its majestic home sites and luxury homes located at Pinnacle Shores in Kimberling City, Missouri.
"HCWR has been looking for a significant Table Rock Lake development to promote and sell, and we have found it in Pinnacle Shores," said Robert Allen, Vice President of Sales and Marketing for HCWR. "SCI and HCW Development, LLC (the parent company of HCW Realty) share the same enthusiasm in their commitment to preserving and accentuating the natural beauty and characteristics of the communities in which they develop," he said.
According to Jay Steed: "SCI is currently developing three different lakeside communities on Table Rock Lake: Pinnacle Shores, Lodges at Pinnacle Shores and Lake Ridge located near Shell Knob, Missouri. We take great pride in the ability to offer our clients communities with the best views, the best locations and the best value anywhere in southwest Missouri". He further stated, "We're developing a community and building someone's dream home. Exceeding expectations is not just a goal, it's my passion. The end results are communities in beautiful lakeside settings that we are proud to offer and our residents are proud to own."
Pinnacle Shores is located at the junction of State Highway 13 and RB just ½ mile from the entrance of the newly remodeled Army Corps of Engineers outdoor recreational facility known as "Mill Creek Marina". The Corps is purported to have spent in excess of $4 million on renovating the facility, and it is scheduled to reopen in the spring of 2010.
Ninety five percent of the ninety wooded and oversized lots at Pinnacle Shores offer either lake front access or lake views. The property includes community docks for immediate convenience to the lake and a spectacular clubhouse featuring a custom heated pool with beach entry and fountains, an exercise facility, a full kitchen and a community gathering space. According to Mr. Allen, the overall topography of the property and the way it has been divided has created many different and unique views of the lake for potential property owners to choose the ideal location that is perfect for their needs.
For further information, contact Robert Allen or visit the Branson Real Estate Center at 221 Branson Landing Boulevard on the promenade at Branson Landing.
# # #