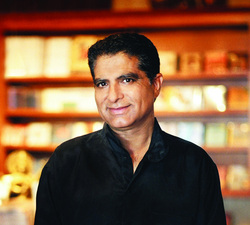 The Chopra Center is coming to some of the most beautiful U.S. cities with this special workshop series.
Carlsbad, Calif. (PRWEB) March 10, 2010
The Chopra Center for Wellbeing today announced "Manifest the Life You Deserve" –– a series of signature workshops led by best-selling authors, acclaimed mind-body healing pioneers, and Chopra Center co-founders Deepak Chopra, M.D. and David Simon, M.D. In the next few months, the Chopra Center will be bringing this workshop series to some of the most beautiful U.S. cities, where participants will learn timeless wisdom and practical tools for manifesting what they really want in all aspects of their lives.
"In our current times, many people feel stuck, worried, or trapped in negative cycles of thinking and behaving that damage their health and prevent them from seeing the possibilities that still abound," said Dr. David Simon. "We're very excited about creating the "Manifest the Life You Deserve" workshop series to help people create the next chapter of their life."
"At this workshop series, participants will learn how to shift from where they are to where they want to be," said davidji, dean of Chopra Center University. "And depending on where you are in your life, there is an access point that meets your need."
There are three workshops in the series. Each one has a specific focus so that participants can receive guidance and support that is customized to their individual concerns:
For first timers or those who are experiencing stress or challenges but have yet to develop a daily practice, there is the Weekend Within - the Chopra Center's Gateway program for beginner manifesters. "Weekend Within" is a powerful introductory workshop led by Deepak Chopra, David Simon, and lead educator, davidji. Participants will learn the powerful tools and techniques of meditation, yoga, and Ayurveda – India's 5,000-year-old healing system.
–– Manifest Health, Wellbeing, and Peace of Mind @ "A Weekend Within" Workshop this April 30 – May 2 in Carlsbad, California
For those struggling with emotional turbulence, forgiveness, acceptance, or the pain of some trauma, loss, or experience, there is the short weekend release workshop known as "Free to Love." During this intensive weekend workshop, David Simon, M.D. will guide you in a unique five-step process that has helped thousands manifest emotional healing.
--Manifest Emotional Healing at the "Free to Love" Workshop
April 16–18, 2010: San Francisco, California
July 9–11, 2010: Carlsbad, California
For more than a decade, the "SynchroDestiny" empowerment workshop has shown thousands of seekers and high achievers how to harness the creative power of coincidence to achieve their deepest desires. Guided by Deepak Chopra, attendees learn to transform their desires and intentions into their destiny.
--Manifest Your Deepest Desires with Deepak Chopra at the "SynchroDestiny" Workshop
June 16–20, 2010: Taos, New Mexico
October 20–24, 2010: Carlsbad, California
To register for a workshop or learn more, please call 888.736.6895 or visit http://www.chopra.com/manifest
About Deepak Chopra, M.D.
Author, physician, and co-founder of the Chopra Center for Wellbeing
Recognized as one of the world's pioneering experts in mind-body medicine, Deepak Chopra continues to transform our understanding of health and healing. A global force in the field of human empowerment, he is the prolific author of more than 55 books, including 14 bestsellers on mind-body health, quantum science, and spirituality.
About David Simon, M.D.
Author, CEO, Medical Director and Co-founder of the Chopra Center for Wellbeing
David Simon is a world-renowned authority in the field of mind-body medicine. As a board-certified neurologist and expert in complementary therapies, he brings a unique perspective to the relationship between mind, emotions, and health. David is the author of many wellness books, including his most recent bestseller, Free to Love, Free to Heal: Heal Your Body by Healing Your Emotions.
About davidji
Davidji has been in apprenticeship to Deepak Chopra and David Simon for the past seven years and is the dean of Chopra Center University. As the Chopra Center's lead meditation teacher and a certified "Perfect Health" instructor, davidji is a guiding force who has taught thousands the timeless tools of meditation and Ayurveda.
About Claire Diab
Claire Diab is the director of the Chopra Center's Seven Spiritual Laws of Yoga teacher training program. She is also the founder of the American Yoga Academy and is an internationally renowned yoga therapist and fitness specialist with more than 20 years of experience. In addition, she is currently serving as an adjunct professor of Asian Studies at Seton Hall University in New Jersey.
About the Chopra Center
The Chopra Center for Wellbeing was founded by Deepak Chopra, M.D. and David Simon, M.D. in 1996. Located in Carlsbad, California, the Center offers a wide variety of programs, retreats, and teacher training programs that integrate the healing arts of the East with the best in modern Western medicine. The Chopra Center has helped millions of people around the world find peace of mind, physical balance, and emotional healing. The website http://www.chopra.com is your starting point on the path to wellness.
###