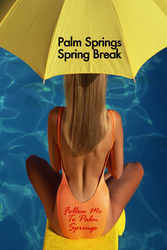 We don't have to say a lot but text us.
Palm Springs, CA (PRWEB) March 11, 2010
To reach college students, you need to enter their world. That's exactly what the Palm Springs Bureau of Tourism plans to do. For the second year in a row, Palm Springs plans to invite spring breakers via a text message campaign.
"We don't have to say a lot but Text Us", says Mary Jo Ginther, Director of the Palm Springs Bureau of Tourism (PSBOT). "We did this last year and we were very happy with the results". This year, the PSBOT will pull out all the stops in an attempt to reach students where they hang out. This text message campaign will include promotions on Facebook, Twitter, LinkedIn and other niche social web portals.
The campaign is simple. PSBOT has special offers that are only available to spring breakers. These offers include special deals on hotel stays including 2-night stays starting at only $99.99. To take advantage of these amazing deals, all students need to do is text "PSBREAK" to 368638. They will get a reply with a special website address.
Another part of the campaign is a special text message sent to students cellphones who opted in to travel deals. This mass text message broadcast will also include a special website for students to take advantage of the exclusive spring break deals.
With the economy still a factor with many students, Palm Springs hopes that the deals will entice spring breakers to enjoy all that Palm Springs has to offer at a great price.
# # #