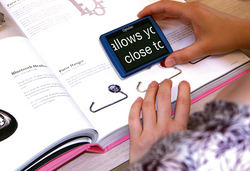 San Diego, Calif. (PRWEB) March 10, 2010
Optelec US Inc., a world leader in innovative and life changing assistive technologies for the blind and visually impaired, attends the California State University, Northridge (CSUN) Center on Disabilities' 25th Annual International Technology and Persons with Disabilities Conference, held at the Manchester Grand Hyatt on March 22-27. Optelec also uses this time as a platform to formally unveil a nationwide public awareness movement – VisionZone: "You're not alone anymore" – which will serve as a live and virtual eye health resource with interactive components and major corporate/non-profit partners.
On display during the CSUN Conference, booth #205, Optelec will educate attendees on its latest low vision solutions and demonstrate how electronic video magnifiers change the quality of life for people living with vision disabilities. Assisting those in the classroom, at home or in the workplace, Optelec continues to develop new optical aids based on consumer feedback, medical advances, and eye health trends – all to empower low vision users with cutting-edge technologies that allow them to best read and see.
Featured Optelec products at CSUN Center on Disabilities Conference include:
•Compact Mini portable video magnifier with a 3.5 inch LCD screen at only 4.7 ounces
•FarView handheld video magnifier with a built-in auto focus camera, zoom-in functionality, scrolling, and auto-return
•MultiView transportable, multipurpose video magnifier with 3-in-1 camera and 19 inch widescreen
•ClearView+ High Definition desktop video magnifier with 1X magnification
•AutoZoom feature pack for the ClearView+ to customize font size and contrast settings
On March 22, Optelec will roll out the newly designed and enhanced Web site, VisionZone.org for its VisionZone: "You're not alone anymore" program. Online applications will include social networking, accessibility to health specialists, discussion forum and eye health resources.
Optelec teamed up with Drew Antzis, Los Angeles-based director and former in-house director at Funnyordie.com, to shoot a creative short film offering an atypical perspective on disability and vision loss. The film stars Brian Fischler, a nationally recognized blind comedian and founder of the Laugh for Sight comedy benefits. It was shot throughout San Diego, including footage from Acqua al 2, an award winning Italian restaurant in the Gaslamp Quarter.
Throughout the CSUN Center on Disabilities Conference, Optelec's booth #205 will debut its VisionZone short film at the top of every hour and host a Meet-n-Greet on Friday, March 26 with the film's creators. The short film will be available publicly March 24 on VisionZone.org.
For more information visit http://www.optelec.com, http://www.shoplowvision.com, http://www.visionzone.org or call 800-335-7970. Follow daily updates via @Optelec on Twitter and Facebook, and @VisionZoneOrg on Twitter and Facebook.
About Optelec U.S. Inc.
Optelec U.S. Inc. was founded in 1985 and is recognized as the worldwide market leader in providing innovative solutions for the blind, visually impaired and learning disabled. In January 2007, Tieman U.S., Holding Company to Optelec U.S. Inc., spun off ShopLowVision.com as a subsidiary company to provide a one-stop-shop for optical, non-optical and daily living aids for eye care professionals and consumers. For more information visit http://www.optelec.com.
###