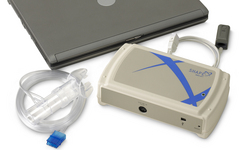 St. Paul, MN (PRWEB) March 11, 2010
A recent study has shown that the Shape-HF Cardiopulmonary Exercise Testing System accurately quantifies key cardiopulmonary variable over a range of workloads and has a coefficient of variation similar to a well validated system. The study was published this month in The Open Sports Medicine Journal.
The Shape-HF System is the first cardiopulmonary exercise testing system designed for use in physician offices, giving doctors a window to patient physiology that helps pinpoint the source of dyspnea limitation and make informed decisions on patient status, diagnosis and therapy options.
Doctors may monitor patient progress over time, adjust therapy, track the response, and see the impact of therapy decisions often before an overt change in patient symptoms. In patients with pacemakers or in cardiac resynchronization therapy, Shape-HF helps assess rate response and can be used to help doctors optimize CRT while the patient is upright and exercising to a level consistent with the activities of daily living.
Shape-HF parameters add physiological resolution to the New York Heart Failure Association classification system and provide a continuum of functional values that improve sensitivity of the assessment. The device is FDA-approved, easy to use, easy on the patient, and provides clinically relevant data that is easy to understand, reproducible and immediately useful to the physician.
In this particular study, data collected by the Shape-HF compared favorably to that of a Medical Graphics CPX/D integrated with mass spectrometry for gas analysis as tested at the Division of Cardiovascular Diseases in the Department of Internal Medicine at the Mayo Clinic. The study involved testing 22 subjects simultaneously on each system. Pneumotachs providing air flow to the respective test systems were connected in series for the tests. The order of the pneumotach for each system was alternated for two test runs separated by 15 minutes of rest. Each subject was tested at rest and as power was incrementally increased on a cycle ergometer with three minutes of exercise at each exercise work rate. The last 30 seconds of data for each interval for each run was then averaged. The averages of all subjects for rest and the three exercise intervals were then averaged for each run. The average values for each run showed a remarkably consistent parallel and match for all measurements, which included heart rate (HR), oxygen uptake (VO2), carbon dioxide output (VCO2), tidal volume (VT), end-tidal partial pressure of carbon dioxide (PetCO2), oxygen saturation (SaO2), and breathing frequency (Fb). Prior to each test run, the Mayo system was calibrated manually; the Shape-HF was calibrated automatically using its proprietary dynamic autocalibration feature that does not require manual calibration prior to testing.
Shape Medical Systems Inc. is a privately held, St. Paul, Minnesota-based medical device company whose core technology lies in the development and commercialization of products for assessing heart/lung interaction and ventilation in chronic heart failure and other cardiopulmonary disease. Shape's clear mission is to develop products that increase the quality of patients' lives by helping doctors quantify shortness of breath, assess patient functional capacity, optimize drug, device and rehabilitation therapy, and monitor patient progress. Shape testing provides evidence based outcomes. Shape Medical Systems was founded in 2004 and received FDA market clearance for the Shape-HF™ Cardiopulmonary Testing System in April 2009. The Shape-HF™ System, testing protocols and applications are protected by patent 7,225,022 and other U.S. and foreign patents issued and pending.
###