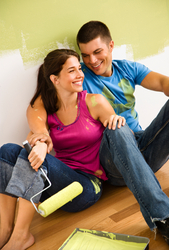 "When we looked at our sales in 2009, some of the best deals our clients got was when the seller was an estate, a relocation company, or a couple that was going through a divorce," says Gable.
Palatine, IL (PRWEB) March 10, 2010
Gideon Akande recently purchased his first home, a townhome near Hyde Park in Chicago, IL. "We saw all kinds of properties, but we kept an eye on this one and the sellers just kept dropping the price," Gideon states. For his particular model, Gideon paid the second lowest price in his subdivision since 2004. The seller's company was relocating the seller and his family to Michigan.
"Gideon's situation is proof positive that to keep up with the market, traditional sellers are dropping their home prices, and in some cases, just as much as short sales and foreclosures," Gable says.
Gideon also received an allowance from the seller for some repairs needed after his home inspection. Bank owned properties are purchased 'as-is', meaning the expectation is that the bank will not pay for any issues that arise from a home inspection.
"Gideon got the best of both worlds; a rock bottom price and a seller willing to work with him on repairs, plus he closed in a timely fashion," Gable says.
But that's not to say that the route of buying a foreclosure or short sale should be abandoned. Gable still agrees that most of the better deals out there lie in the bank owned and short sale supply of homes. However, with the looming expiration of the $8,000 first time home buyer credit, and even though there are loans available for rehabbing properties (FHA's 203K Loans), Gable believes buyers will be looking more towards homes that need minimal repair.
Gable's advice?
"The prepared and educated first time home buyers are landing the best deals. Attend a local first time home buyer seminar, start talking with a lender and agent, and really look at everything that's out there."
###