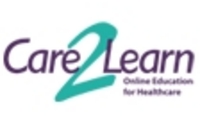 "ANCC Accreditation simply recognizes the excellent instruction provided to our nurses each day and reflects our commitment to nurses of providing the highest quality continuing education possible."
Tampa, FL (PRWEB) March 12, 2010
Care2Learn Inc., the leader in online continuing education and training for post-acute healthcare providers, has received national ANCC Accreditation as a Provider of continuing nursing education by the American Nurses Credentialing Center (ANCC). ANCC Accreditation status is the result of a thorough review process and is bestowed only on continuing education providers who meet the ANCC's high standards.
"ANCC Accreditation is a positive move forward in the nursing professional development and continuing education market," says Ryan Sparks, Vice President of Content and Development at Care2Learn. "ANCC Accreditation simply recognizes the excellent instruction provided to our nurses each day and reflects our commitment to nurses of providing the highest quality continuing education possible."
The American Nurses Credentialing Center's system for accreditation of continuing nursing education is a voluntary peer-reviewed accreditation process. An institution, organization, agency, or entity submits to an in-depth analysis of their continuing nursing education program to determine the capacity of the organization to provide quality continuing education activities for nurses. Care2Learn's ANCC Accreditation status, which includes annual reviews, is valid for up to six years.
ANCC Accredited Provider status differs significantly from ANCC Approved status, and Care2Learn's ANCC Accreditation comes just in time for a major ANCC Continuing Education rule change. Beginning September 1, 2010, only ANCC Accredited Providers will be allowed to offer CE to Nursing Professionals nationwide. The ANCC says, "It is…more efficient and protects the participants if ANCC reviews and accredits all of the providers reaching the larger audiences, so that they can be monitored more closely."
About Care2Learn:
Founded in 2000, Care2Learn provides online education solutions to the post-acute healthcare market, which includes nursing homes, assisted living facilities, rehabilitation centers, and home healthcare and hospice facilities. The Care2Learn course library includes approximately 2,600 accredited course hours delivered to more than 161,000 healthcare professionals in all 50 states.
Acquired by RedVector, an online continuing education company for the design, engineering, and construction industries, Care2Learn continues to grow by offering customized online eLearning universities to companies who want to offer training and education solutions to their entire staff in a cost-effective, easy-to-use, and readily accessible manner. For further information, call 1-866-703-9418 or visit http://www.Care2Learn.com or http://www.Care2LearnEnterprise.com.
About the American Nurses Credentialing Center
ANCC is the largest and most prominent nurse credentialing organization in the United States.