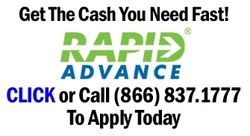 We truly want to fund our client's businesses quickly and do our part in helping to create as many new jobs as possible." says Jeremy Brown, RapidAdvance C.E.O.
Bethesda, MD (PRWEB) March 10, 2010
RapidAdvance, found on the web at RapidAdvance.com, has been recognized by one of the largest electronic publications for the small business owner, BusinessPro News, as being the company of choice for the organization who needs access to working capital for almost any legitimate business reason, and can not, or does not want to get a regular business loan from traditional sources. The team at RapidAdvance has developed a unique business cash advance program that is clear, concise and very effective for all parties involved.
Paying careful attention to the economy and the needs of today's small business borrowers, RapidAdvance has carefully its business cash advance programs and guidelines to be conducive to getting its clients rapidly funded, rather than flounder and fizzle out in the underwriting and application process. This streamlined, fast-track alternative business funding approach has resulted in stellar results and speedy growth for many RapidAdvance clients who simply could not get the answers, or funding needed, for their businesses elsewhere.
"Historically, the ability for business owners to obtain capital to advertise, purchase inventory and hire employees has been very time consuming and difficult. Our working capital solution not only addresses those needs in a timely fashion but goes further by allowing a business owner to repay us with the natural flow of their business. This not only allows the owner to obtain the capital they need but also helps them gain control over their cash flow and gives them a true partner in the success of their business, " says Mark Cerminaro, Rapid Advance's Senior Vice President of Sales and Marketing.
"We have seen many firms who provide alternative business capitalization services come and go over the years. What seemed to be missing was an organization that looked out for the best interests of their clients on an individual basis. I see RapidAdvance as more than an alternative source of working capital for small businesses. Way more. RapidAdvance is a viable, true and solid funding solution for the struggling small business community. Organizations that need liquid cash for business purposes can get it without the hassles and red-tape normally associated with conventional bank business loans. After examining, at length, the business cash advance solutions provided by RapidAdvance, I am compelled to provide my official endorsement and seal of approval. In my opinion, the entire team at RapidAdvance is sincerely interested and motivated in helping their clients stay afloat and thrive. I would also like to mention that the RapidAdvance team goes above and beyond the call of duty in everything that they do for organizations that utilize their services. These days, this is powerful, really powerful. This is the kind of service that allows for economic growth and recovery – and we are all for it. "says Jonathan Cosie, Editor/ Founder of BusinessPro News which is published by The Midtown Consulting Group
"Our team often hears sighs of relief from our new clients, stating that our business cash advance services are exactly the kind of program that they were looking for- especially by those whose organizations who could not get to the next level because of the lack of conventional access to working capital under current economic conditions. Our services allow our clients to focus on their business with confidence in knowing that our highly proficient, customer-centric team is never more than a mouse-click or phone call away. We truly want to fund our client's businesses quickly and do our part in helping to create as many new jobs as possible," says Jeremy Brown, RapidAdvance C.E.O.
The RapidAdvance business cash advance program works by converting its client's future Visa and MasterCard receivables and other payment device receivables into immediate capital. Repayments are based on a small fixed percentage of future Visa and MasterCard receivables. Payments are automatically applied to the outstanding amount until the balance is satisfied.
Even better, unlike a business loan, RapidAdvance is aligned with the success of its clients. Repayment is linked directly to its borrowers customer payment volume. Payment are automatically adjusted and based on monthly credit and charge card volume, thus greatly helping its clients, especially during slower months when cash-flow is lower than normal.
"The repayment flexibility is incredible and one can easily see how a business cash advance from RapidAdvance can really take the pressure off the small business owner. I have never seen a bank loan with such options," says Cosie.
With benefits like no collateral needed (completely unsecured), no points or fees, flexible payments, an extremely streamlined free application process and pre-approval within 24 hours, it's easy to see why 85% of all RapidAdvance clients renew for another term.
When it comes to getting working capital fast for the small business in today's economy, the business cash advance from RapidAdvance simply can't be beat.
You can learn more about Rapid Advance at RapidAdvance.com or by calling (877) 467-2743
###