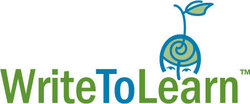 South Dakota is truly leading the nation with this new forward-thinking approach to student writing assessment
Boulder, Colo. (PRWEB) March 11, 2010
More than 18,000 South Dakota students will participate in a pilot test of a new state writing assessment this spring. Students in grades 5, 7 and 10 will take the 2010 Dakota Writing Assessment using WriteToLearn™, an award-winning Web-based writing and reading comprehension tool from the education, technology and services company, Pearson.
The state made the decision to move from a summative to formative writing assessment in response to requests from teachers for a test they can use periodically throughout the year to measure student progress and give immediate feedback to students on their writing skills.
"Using WriteToLearn allows students to practice their writing with informative feedback and gives teachers the information they need to identify individual and class strengths and weaknesses," said Wade Pogany, Director, Assessment and Technology Systems, South Dakota Department of Education. "This will help students continue to build the communication skills needed for success in school and life."
With WriteToLearn, students practice essay writing and summarization skills, and their efforts are measured by Pearson's state-of-the-art Knowledge Analysis Technologies™ (KAT) engine. The KAT Engine is a unique automated assessment technology that evaluates the meaning of text, not just grammatical correctness or spelling. WriteToLearn provides feedback on six traits of writing - ideas, organization, conventions, sentence fluency, word choice and voice - and allows students and teachers to focus on each of these important dimensions of writing.
Students find the WriteToLearn environment both engaging and motivational, encouraging them to spend extra time on assignments and projects.
"South Dakota is truly leading the nation with this new forward-thinking approach to student writing assessment," said Bruce Smith, Pearson's Vice President for assessment for South Dakota. "As students move from taking paper-and-pencil assessments to using our online, formative assessment, the power of technology will accelerate their learning and put them on the path to higher levels of achievement."
More information about WriteToLearn is available at http://www.WriteToLearn.net.
About Pearson
Pearson (NYSE:PSO), the global leader in education and education technology, reaches and engages today's digital natives with effective and personalized learning, as well as dedicated professional development for their teachers. This commitment is demonstrated in the company's investment in innovative print and digital education materials for preK through college, student information systems and learning management systems, teacher professional development, career certification programs, and testing and assessment products that set the standard for the industry. Pearson's commitment to education for all is supported by the global philanthropic initiatives of the Pearson Foundation. Pearson's other primary businesses include the Financial Times Group and the Penguin Group. For more information, go to http://www.pearson.com.
For more information, press only:
Adam Gaber, Pearson, 800-745-8489, adam.gaber(at)pearson(dot)com
Lisa Wolfe, L. Wolfe Communications, 773-227-1049, lwolfe(at)lwolfe(dot)com
###