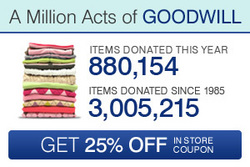 Donating items you no longer need to Goodwill is a simple act of charity anyone can do and directly benefits people in your local communities
Rockville, MD (Vocus) March 12, 2010
The economy is showing signs of recovery, but a new survey from the National Association for Business Economics shows that job growth will likely be slow for the next couple of years. People who are already dealing with long bouts of unemployment need help to find jobs and take care of their families. By donating clean, gently used clothing and textiles during the semi-annual Goodwill Sale at Bon-Ton stores, donors can help those individuals obtain job training and employment and receive a discount on new merchandise at the same time.
The Goodwill Sale at Bon-Ton stores will take place from Wednesday, March 10, 2010, through Wednesday, March 24, 2010. Consumers who donate clothing and textiles at Bon-Ton will receive a discount coupon for every item donated. The coupon can be used at Bon-Ton locations for 20 percent off apparel, shoes and accessories, and 15 percent off cosmetics, fragrances and home store merchandise. Certain items, including electronics and toys, qualify for a 10 percent discount.
Donations will be sold in Goodwill stores, where the revenues fund job training programs, employment placement services and other community-based services for people with disabilities, those who lack education or job experience and others facing challenges to finding employment.
"Donating items you no longer need to Goodwill is a simple act of charity anyone can do and directly benefits people in your local communities," said Jim Gibbons, president and CEO of Goodwill Industries International. "Your donations allow Goodwill to provide the job training services that people need to build their careers, be independent and create a positive impact on their communities."
Every customer who donates at Bon-Ton during the Goodwill Sale is contributing an "Act of Goodwill" to help others. People who pledge their support for Goodwill's mission and register their commitment on the http://www.millionactsofgoodwill.com website, will receive an exclusive 25 percent discount in-store coupon. Those who register on the website will also have a chance to play the Spin to Win game and be entered in the $1,000 cash prize sweepstakes.
As people clean out their closets this spring, Goodwill and Bon-Ton urge donors to carefully decide what they do with items they no longer need. The Goodwill Sale generates millions of pounds of donations for Goodwill, a nonprofit organization with a long history of strengthening families and communities. Every 42 seconds of every business day, a person served by Goodwill earns a good job, allowing them to pay for household expenses like food and child care, as well as allowing them to make long-term economic investments such as education or purchasing a home or car.
"The Goodwill Sale is more than a major sale event for our company; it enables Goodwill to help those who need it most in our local communities," said Bud Bergren, president and chief executive officer of The Bon-Ton Stores, Inc. "The successful partnership between Bon-Ton and Goodwill gives people an opportunity to help their neighbors who are building their job skills and careers."
About Goodwill Industries International:
Goodwill Industries International is a network of 180 community-based, independent agencies in the United States, Canada and 13 other countries. One of the nation's top five most valuable and recognized nonprofit brands as well as a leading social services enterprise, Goodwill generates opportunities for people to achieve economic stability and build strong families and vibrant communities by offering job training programs, employment placement services and other community-based programs for people who have disabilities, lack education or job experience, or face other challenges to finding employment. To pay for its programs, Goodwill sells donated clothes and other household items in more than 2,300 retail stores and online at shopgoodwill.com. Local Goodwill agencies also build revenue and create jobs by contracting with businesses and government to provide a wide range of commercial services, including packaging and assembly, food service preparation, and document imaging and shredding. More than 1.5 million people in the United States and Canada have benefited from Goodwill's career services. Goodwill channels 84 percent of its revenues directly into its programs and services. To find your local Goodwill, use the online locator at http://www.goodwill.org or call (800) 664-6577. Find Goodwill on Facebook: GoodwillIntl. Find Goodwill on Twitter: @GoodwillIntl
About The Bon-Ton Stores, Inc.:
The Bon-Ton Stores, Inc., with headquarters in York, Pennsylvania and Milwaukee, Wisconsin, operates 278 stores, including 11 furniture galleries, in 23 states in the Northeast, Midwest and upper Great Plains under the Bon-Ton, Bergner's, Boston Store, Carson Pirie Scott, Elder-Beerman, Herberger's and Younkers nameplates and, under the Parisian nameplate, stores in the Detroit, Michigan area. The stores offer a broad assortment of brand-name fashion apparel and accessories for women, men and children, as well as cosmetics and home furnishings. The Bon-Ton Stores, Inc. is an active and positive participant in the communities that it serves. The Goodwill Sale event is a long standing charitable partnership the Company developed to support its Hometown commitment and build strong communities.
Christine Hojnacki (414) 839-6613
christine.hojnacki (at) bonton (dot) com
Charlene Sarmiento (240) 333-5590
charlene.sarmiento (at) goodwill (dot) org
###