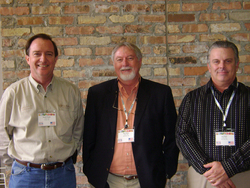 These new additions to the team reflect the rapid growth in demand for Stoller products and our commitment to the growing customer base.
Houston, TX (PRWEB) March 14, 2010
A leader in plant performance technology, StollerUSA announces several new members to their sales team. The expanded personnel will support the company's domestic initiatives in the Midwest and Southern US.
Jack Keller brings lifelong experiences in the agriculture chemical industry and will serve farmers in Tennessee, Kentucky, southern Indiana and southern Illinois. He worked for a time with Allied Chemical but the spent majority of his career with Wagner Seed & Fertilizers as general manager. Most recently, Keller served as crop consultant for Crop Production Services until joining StollerUSA. Keller served on the board of directors for Indiana Plant Food and Chemical Association and Certified Crop Advisers for several years; and is a graduate of Marshall University, Huntington, West Virginia.
Rick Walker, an expert in chemistry along with research and development, will cover territory in Mississippi, Arkansas, Louisiana and the boot heel of Missouri for StollerUSA. A graduate of The University of Mississippi with a bachelor of education in science, Walker taught secondary chemistry and coached basketball at Ole Miss. Walker rejoins the Stoller team after previously working with the company from 1983 through 1993. In between roles, he worked in sales and R&D for Jay-Mor, Inc.
Darrell Thorpe will serve growers in Georgia, Alabama and northern Florida. Thorpe holds a degree from Auburn University, and is a member of Florida Fertilizer & Ag Chemical Association, Florida Fruit & Vegetable Association, and Georgia Plant Food Educational Society. He has worked within the Ag chemical business in management roles servicing farmers across the country.
Don Stork, a crop expert serving the Corn Belt for over three decades, will service farmers in Illinois, Missouri, southern Wisconsin and eastern Iowa. In his last position as a Crop Consultant at Cooperative Plus in Burlington WI, Don helped vegetable and corn farmer's increase yields. Don's expertise is a welcome addition to the Stoller knowledge base.
"These new additions to the team reflect the rapid growth in demand for Stoller products and our commitment to the growing customer base," states Dr. Wayne Smith, General Manager of StollerUSA. "I am excited to have these new team members in place and look forward to the impact they will make as we continue to provide solutions and yield enhancing products for use on U.S. crops.
StollerUSA is dedicated to helping producers enhance their crops by maximizing genetic expression. The result is in enhanced marketable yield, resistance to insects, nematodes and disease, while maximizing return-on-investment. Stoller products are proven to ensure optimum plant growth by maintaining appropriate hormone balance in combination with supporting nutrients, resulting in healthier, more productive crops that are better able to withstand stress and achieve their full genetic potential.
In agribusiness for more than 40 years, StollerUSA markets a full line of products to help farmers increase crop yield and quality. StollerUSA, headquartered in Houston, is actively researching and developing plant performance products in more than 50 countries. For more information on StollerUSA, visit http://www.StollerUSA.com.
###