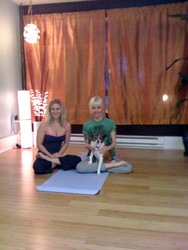 Seattle, WA (PRWEB) March 11, 2010
Traditional Ashtanga Yoga meets non-traditional Dog Yoga at Westside Yoga and Doga (http://www.westsideyogadoga.com) in Seattle, Washington. Brenda Bryan, internationally known author and creator of Barking Buddha Doga, along with traditionally trained Ashtanga Yoga instructor Kelly Page have opened up the first Doga and Ashtanga Yoga studio in the United States. Westside Yoga and Doga opened its doors to yogis and dogis on February 22, 2010.
Ashtanga Yoga, made popular by celebrities such as Madonna and Sting, is a very physically challenging and traditional Yoga style and Doga is a very new and nontraditional Yoga practice with dogs. Although different in approach, Kelly and Brenda realized their goals for creating a community and an awareness of well being for people and animals were very similar.
Kelly and Brenda met as Yoga instructors at a popular Seattle Yoga studio, but it was their love of dogs and their involvement in the dog rescue community that brought them together as friends and business partners.
In addition to teaching, writing and running Westside Yoga and Doga, Brenda will continue her work with The Seattle Humane Society. Aside from running the Yoga and Doga studio, and being mom to a three year old, Kelly will continue her work as Washington State representative for Dogs Deserve Better. Westside Yoga and Doga will also advocate out of their studio with a rescued "Dog of the Week" as well as fundraising and education for the betterment of our canine companions and a their people.
Westside Yoga and doga will be open daily with a variety of classes including Ashtanga Yoga with live music every Monday morning, Doga classes, family yoga, seminars and Barking Buddha Doga teacher training.
For more information on classes and schedules, please visit http://www.westsideyogadoga.com. Westside Yoga and Doga is also on Twitter (@WSYogaDoga) and on Facebook.
###