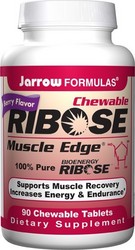 Our online video efforts have provided an efficient way to expose the Jarrow Formulas brand to a new and diverse consumer base
Los Angeles, CA (PRWEB) March 11, 2010
Jarrow Formulas®, Inc., a global wellness and nutritional product company headquartered in Los Angeles, CA, recently partnered with Bioenergy Life Sciences, an integrated life science company whose core technology is centered on the five-carbon carbohydrate D-ribose , to produce a high-energy, 26-second video featuring short-track speed skater Katherine Reutter. The video, which features both action and cameo shots of Reutter with up-tempo music and graphics, was posted on the Jarrow Formulas' YouTube channel (as well as Jarrow's Facebook page and Twitter account) before the start of the Vancouver Winter Olympic Games. When Reutter won 2 medals - a Silver and Bronze - it created the perfect viral storm.
Reutter was considered a long shot in her various short-track speed skating events, particularly when she faced the highly favored Chinese, Koreans and Canadians in the qualifying heats. Against all odds, the American powered into the finals and grabbed the Silver medal, holding off both a Korean and Chinese Women's Short Track champion. Reutter is the first US woman to medal in the 1000 meters since Bonnie Blair did it in Lillehammer, Norway in 1994.
Prior to Reutter skating the qualifiers, the Jarrow Formulas' Ribose video had about 9,000 views. On Friday morning, February 26, after she skated into the finals, the video surged to almost 55,000 views. Now, several weeks after her double medal performance and post-Olympics "high" Jarrow's Ribose video featuring Reutter has reached almost 200,000 views. The overwhelming popularity of this video is a testament to good timing and smart marketing and is having a bonus spillover effect to other Jarrow videos pushing their total YouTube channel views toward the 1 million mark.
"Our online video efforts have provided an efficient way to expose the Jarrow Formulas brand to a new and diverse consumer base," says Rory Lipsky, Marketing Manager for Jarrow Formulas. "This viral event is evidence of the tremendous leverage the online world provides to clever marketers."
The now legendary Ribose video and Jarrow Formulas' entire library of product and special event videos can be viewed at http://www.youtube.com/JarrowFormulas.
Jarrow Formulas is a nutritional supplement formulator and marketer founded in 1977 and incorporated in 1988. The company markets its products throughout the United States and internationally in more than 20 countries in Europe, Asia, Israel, Azerbaijan and Latin America. The company offers a complete line of nutritional products that includes vitamins, minerals, probiotics, standardized herbal concentrates, amino acids, enzymes and enteral nutrition formulations. Jarrow Formulas, Inc. is active in regulatory affairs, helping to maintain American's rights to free access to dietary supplements. Its products are manufactured by Jarrow Industries Incorporated, a pharmaceutical quality facility located in Santa Fe Springs, CA. For more information, contact Mark Becker, Director, Advertising/Communications toll free at (800) 726-0886 or access the Jarrow Formulas Web site at http://www.Jarrow.com.
For a free Jarrow Formulas' product sample, access http://www.Jarrow.com/sample.
# # #