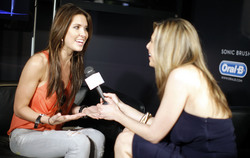 It was fabulous to be amidst the glamour and excitement of Oscars week in working with a great media partner like Elle.com. I look forward to expanding the reach of RedCarpetRoxy.com.
Beverly Hills, CA (PRWEB) March 11, 2010
The town was studded with stars last week for the 82nd Annual Academy Awards in Los Angeles, and Red Carpet Roxy caught all the action hosting the "Skinny on the Red Carpet" at Haven360 located at the Andaz West Hollywood. Roxy Manning, founder of RedCarpetRoxy.com, stepped in due to scheduling conflicts for Giuliana Rancic as the official correspondent of the Haven360 3-day Oscar series covering the red carpet and interviewing celebrities one on one for the private daytime gifting suite and evening pre parties.
Kicking off the series was the Oscar Winner for Best Documentary Film, "The Cove," official pre-Oscar party where Roxy was front and center interviewing the award winning cast and Tinseltown's finest: Director Louie Psihoyos, Producer Fisher Stevens, stars Richard O'Barry and Hayden Panettiere; Ben Stiller, Malin Ackerman, and Russell Simmons.
Throughout the program Roxy got the "skinny" on film favorites, fashion, and everything in between from stars Common, Mekhi Phifer, Aaron Paul from the HBO series "Big Love," "Private Practice's" Tim Daly, R&B singer Mario, Olympic Silver Medalist Jared "Speedy" Peterson, Nia Vardalos, "Mad Men" star Aaron Staton, "Criminal Minds" star Joe Mantegna, "Dancing with the Stars" contestants Aiden Turner and his partner Edyta Sliwinska, "The Hills" star Audrina Patridge, Rachael Leigh Cook, and Richard Kind and Sari Lennick whose film "A Serious Man" was nominated for the Best Picture Oscar, as well as many more. To view Roxy in action and "The Skinny on the Red Carpet," please visit http://www.elle.com/skinnyon or http://www.RedCarpetRoxy.com.
RedCarpetRoxy.com spotlights hundreds of inside access interviews and Hollywood dish with A-list celebrities such as Oscar-winner Sandra Bullock, Robin Williams, Samuel L. Jackson, Eva Longoria Parker, Tom Ford, Courtney Cox, Kristen Stewart, Hugh Jackman, Catherine Zeta-Jones, and Michael Douglas.
About RedCarpetRoxy.com – Founded by Roxy Manning, RedCarpetRoxy.com gives exclusive, behind the scenes interviews from some of Hollywood's biggest stars and an inside look into A-List events. Plus, "The Look of the Week" with first-rate fashion and chic trends; reviews of products, services, clothing, and accessories in "Red Carpet Ready;" and the "Red Alert" when something big is going on in the animal and wildlife world. With an international audience of readers in over 40 countries and counting, http://www.RedCarpetRoxy.com is on the fast track to becoming one of the top celebrity interview sites on the web.
###