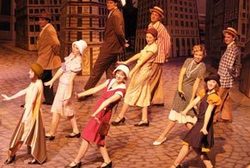 I'm looking forward to rubbing elbows with some of the best directors in the country as we work on different projects together.
Newberg, OR (Vocus) March 11, 2010
Rhett Luedtke, an associate professor of theatre at George Fox University in Oregon, was one of only eight faculty members chosen nationally to receive a National Directing Fellow Award from the John F. Kennedy Center. The honorees will travel to Washington, D.C., for the National Kennedy Center American College Theater Festival.
Luedtke will receive an all-expenses paid trip to participate in the festival April 13-17. He is the only representative to receive the award from Region 7, a 10-state region that includes Alaska, Washington, Oregon, Idaho, Montana, Wyoming, Colorado, Northern California and Northern Nevada.
The National Festival Faculty Fellowship for Directing Award recognizes and honors the contributions of directors to teaching and signifies exceptional work in the theatrical field.
Each year, one faculty member represents the eight regions in the U.S. This year, there are three faculty fellows in directing, two in design and technology, and one each in playwriting, performance and criticism/dramaturgy. Luedtke, who teaches theatre major courses and directs many of the university's plays, was selected as one of the three directing fellows.
"George Fox is a great school, and we often receive national and regional recognition for the quality of our education," Luedtke said. "So, it's an honor to represent GFU and our theatre program at the national level as we do our part to raise the university's national profile."
National Directing Fellows will be working in master classes with various directors from around the country. Directors include Vyacheslav Dolgachev, a director at the Moscow Art Theatre and the current Artistic Director at the New Drama Theatre of Moscow; Libby Appel, the artistic director of the Oregon Shakespeare Festival from 1995-2007; and John Dillon, who has staged productions at leading theatres in England, Russia, Japan, and Egypt, as well as staging productions in more than two dozen of the country's leading regional theatres.
Luedtke will advise Dillon on awarding the National Student Director Fellowship and will direct a reading of one or more of the invited 10-minute plays or one-act plays.
"It's going to be an exciting week of sharing and learning," Luedtke said. "I'm looking forward to rubbing elbows with some of the best directors in the country as we work on different projects together."
George Fox University is ranked by Forbes as one of the top 100 colleges in the country and highest among Christian colleges. George Fox is the only Christian university in the Pacific Northwest classified by U.S. News & World Report as a national university. More than 3,300 students attend classes on the university's campus in Newberg, Ore., and at teaching centers in Portland, Salem, and Redmond, Ore., and Boise, Idaho. George Fox offers bachelor's degrees in more than 40 majors, degree-completion programs for working adults, five seminary degrees, and 12 master's and doctoral degrees.
Contact:
Rhett Luedtke
Associate Professor of Theatre
503-554-2632
###