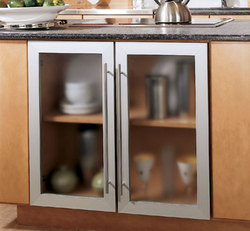 Pompano Beach, FL (PRWEB) March 11, 2010
European design can bring a modern touch to even a traditional kitchen. With the addition of Element Design to an ever growing product line, Cabinetparts.com has now brought "custom" to the Internet.
Aluminum Frame Doors can create a focal point and highlight furniture and cabinets made from wood, laminate, high gloss acrylic and more. These doors can be made in 2-3 weeks and are 100% fabricated and sourced in the U.S.
With no minimum order quantities it is easy to create anything from a small focal point to a huge design statement. Doors are shipped fully assembled and ready to install making it simple for the average homeowner to use without professional assistance. And with an array of frame styles and insert choices, there is no limit to the design possibilities.
If you are considering the addition of Aluminum Frame Cabinet Doors please visit:
http://www.cabinetparts.com/c/element-designs/
Cabinetparts.com is your #1 source for all Cabinet Hardware and Accessories
###