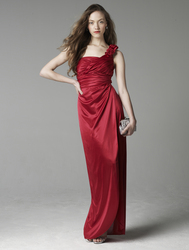 Conshohocken, PA (PRWEB) March 11, 2010
Whether she's sweet, chic or unique, today's teens want to stand out in a show-stopping "Perfect 10" style this season. From Proms and Homecomings to Quinceañeras and Sweet Sixteens, David's Bridal offers a variety of glamorous, yet affordable, dresses and accessories. As the nation's most trusted special occasion authority, David's Bridal is a smart and fashionable resource for every teen's most special events. Style-savvy girls can choose from an extensive array of punchy prints and exclusive hues – including ravishing reds, mod-inspired black and whites, bold blues, passionate purples and many more– to pair with fun and fabulous accessories for a one-of-a-kind look. This year, the David's Bridal design team provides insight into the top ten fashion trends that will help every teen be a "10," without breaking the bank:
1. Bejeweled Necklines. Shine on and off the dance floor in a simple sheath with dazzling details. Rhinestones, sequins and stones adorn keyhole and halter necklines for an instantly chic style. These eye catching jeweled details create the perfect head-to-toe look in some of the most fashion forward styles for the season.
2. Bows, Ruffles and Tiers, Oh My! This season's prom collection features beautiful bows, flirty ruffles and tiered skirts that add volume, dimension and glamour. Soft and flowing features complement any girl's body type and personality, adding a fun and feminine element to her look. Every girl can showcase her individuality by adding a sash or bow in her favorite color, creating her own unique style.
3. Glitzed Up Glam. Sequins, beads and crystals create elegant, all-over embellished dresses, which continue to make a strong statement this season. These sleek details add texture and illusion, creating a stunning, stylish look for the sophisticated and confident teen.
4. Asymmetrical Everything! With such unique straps, necklines and draping, this season's trend-driven attire is transformed into luxurious works of art. Taking a cue from red-carpet fashions, the asymmetrical detailing and unusual pleating create stand-out silhouettes, ensuring prom-goers feel like true stars on their special day.
5. Cut it Out! Side cut-outs and barely there backs add dramatic interest to a variety of silhouettes. Circle and diamond-shaped cut-outs, deep-V and open back designs offer unexpected details and an element of surprise. Several accent shapes and sizes allow teens to be a bit more daring.
6. Pretty in Prints. Edgy zebra prints, reptile skins and bold florals evolve this season even when mixed together. Abstract and watercolor prints look fresh and new, whether the look is a "chic" stunner or a "sweet" princess ball gown.
7. Statement Pieces. Accessories are just as important as the dress and allow girls to set themselves apart this prom. Teens can be bold with chandelier earrings, cuffs and large stone necklaces; or get funky with colorful bib collars and stackable bangles. With jewelry available in a range of colors and styles, David's Bridal makes it easy for teens to mix and match a fashion statement that's all their own.
8. Heads Up! Add some flavor to your hairstyle by glamming it up with a crystal stone headband or jeweled comb to achieve that red carpet look. Top off your look with a David's Bridal headpiece that pulls together your prom style in a snap.
9. Hold Me Handbags. Keep essentials by your side in style with a cute clutch or wristlet. Handbags are available in prints and metallics, and easily complement the latest looks with must-have accents, including pleating, ruching and sparkle details. After prom, pair that same bag with leggings and a fashion-forward top, or a two-tone dress, to get more mileage out of this wardrobe staple.
10. Soar to Great Heights. Once the Perfect 10 dress, jewelry and handbag have been selected, complete the look with striking shoes. Super high heels and platform silhouettes reign supreme. Flirty peep-toes and sassy strappy sandals illustrate that a great pair of shoes can pull together your prom style perfectly. Teens can choose from towering heights and contrasting colors adorned with dazzling stones and chic buckles for feet that never looked so good.
No matter her personality or individual style, David's Bridal offers picture-perfect fashions and head-to-toe accessories at over 300 stores nationwide, as well as on http://www.davidsprom.com. To help every girl achieve a true "Perfect 10" style for every occasion, David's Bridal prom and party dresses are available in sizes 0-26, with DB Prom Plus collection styles in sizes 14W-24W at select stores and online. This season, David's Bridal also introduces the new Diva D Collection, which features exclusive, fashion-forward figure-flattering styles in plus-sizes 14W-24W, both online and in-stores. The best part is that all this glamour is guilt-free, with dress prices ranging from $89-$299. It's easier than ever to stick to prom budgets, as teens will also receive 10% off any accessories they purchase the same day as their dress.
With more than 50 years of experience, David's Bridal understands the importance of providing teens and brides-to-be with a vast selection of exquisitely crafted dresses, available at affordable prices. Today, with over 300 locations nationwide, David's Bridal continues to expand its retail store locations, while maintaining its philosophy of superior quality, value and service. To locate a store nearby, consumers can call 1.877.706.PROM or visit http://www.davidsprom.com.
Copyright © 2010 David's Bridal, Inc. All rights reserved
###