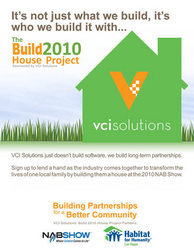 Springfield, MA (PRWEB) March 10, 2010
VCI Solutions, a provider of software solutions for broadcast and cable operations, announced it is sponsoring the building of a house in the silver lot of the Las Vegas Convention Center during the 2010 NAB Show. VCI Solutions has partnered with NAB and Habitat for Humanity Las Vegas to frame a house during the show. The project is titled "The Build 2010 House Project."
Starting Sunday, April 11, 2010, attendees of the NAB Show will have the opportunity to participate in building a house in the silver lot directly outside of the main entrance of the Las Vegas Convention Center. Volunteers will continue to build through Wednesday, April 14th, when a joint ribbon cutting ceremony with the three organizations and the designated family takes place. Information on volunteering and donating can be found on the VCI Solutions website: http://www.vcisolutions.com/build2010.
The standard-sized Habitat for Humanity house will be moved after the show to a pre-poured foundation so that it can be finished out and sold to a working family that will reside in the home.
This project is the essence of what VCI Solutions represents. Deanna Kennedy, Director of Marketing Communications for VCI Solutions, said, "We are thrilled to be partnering with NAB and Habitat for Humanity Las Vegas for the 'Build 2010 House Project.' As a company, we are committed to building partnerships for a better community. We do this both through our company volunteer efforts and our commitment to customers. Our customers in broadcast and cable are building better communities on a daily basis with their public service efforts. This is a way for us to showcase that."
"Broadcasters have a long history of public service, routinely partnering with philanthropic organizations to better the lives of Americans," said NAB Executive Vice President Dennis Wharton. "This partnership, culminating at the world's largest gathering of content professionals, is a natural extension of such initiatives."
Not only did VCI Solutions and NAB see this as a tremendous opportunity, Habitat for Humanity Las Vegas did too. Habitat for Humanity is focused on creating better communities. "This build presents a great opportunity for us to share the Habitat mission with people from around the country," said Guy Amato, President, CEO of Habitat for Humanity Las Vegas. "It reinforces the message that communities can work together to solve social problems and provide affordable housing for all Americans." not only by building houses, but also by building partnerships like this one."
About VCI Solutions
As a steadfast contributor to the media market for over 25 years VCI Solutions has become a trusted and reliable business partner for the future. VCI Solutions is committed to the success of their clients by providing them the tools, flexibility, and knowledge they need for growth. VCI Solutions' product portfolio is comprised of the Verity™ single management media software system, the Orion® business system, and autoXe™ automation systems. All of these products are designed to streamline media operations to create a more efficient workflow and higher revenue. VCI Solutions continually enhances their products and services for the ever-changing market, so that their clients stay ahead of the curve with a competitive advantage. More information can be found at http://www.vcisolutions.com.
About NAB Show
The NAB Show will take place 10-15 April, 2010 in Las Vegas (exhibits open 12 April). It is the world's largest electronic media show covering filmed entertainment and the development, management and delivery of content across all mediums. Complete details are available at http://www.nabshow.com.
News media registration is now available online. Click here to register as press for the NAB Show.
LINK: https://www.xpressreg.net/register/NABS040/media/landing.asp
About Habitat for Humanity Las Vegas
Established in Clark County, Nevada in 1991, Habitat for Humanity Las Vegas has completed 70 homes. Habitat for Humanity Las Vegas is a not-for-profit organization that builds decent, affordable housing with the help of volunteer labor and donated time and materials and funds. Each home is sold at no profit and with a no-interest mortgage to local working families who otherwise might be forced to live in substandard housing. Families contribute "sweat equity" by helping in the construction of their own homes.
Location: 1401 N. Decatur Blvd. Las Vegas, NV 89108; Phone: 702-638-6477; website:
http://www.habitalasvegas.org
###