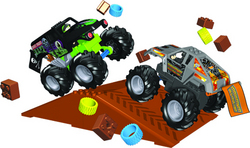 Hatfield, PA (Vocus) March 11, 2010
K'NEX is pleased to introduce new Monster Jam®-themed building toys that allow young builders to create their own monster truck fun! These are the first products to debut as part of the K'NEX/Monster Jam partnership announced in October 2009. The building sets include the world's most popular monster trucks, K'NEXmen drivers, ramps and additional pieces. Monster Jam, owned by Feld Motor Sports is the largest and most popular touring monster truck property in the world entertaining over 4-million fans yearly across the globe.
Intro Truck Assortment
Kids can build six of the most popular Monster Jam monster trucks: Grave Digger®, Maximum Destruction®, Monster Mutt®, Monster Mutt dalmatian, El Toro Loco® and Blue Thunder®! Each set comes with over 30 parts, including a buildable body shell that works with the K'NEX system providing an authentic look and great building fun! The sets include a working suspension, big, chunky tires and a K'NEXman driver! Authentic logos and graphics recreate the original look of each monster truck. Once built, the monster trucks represent 1:43 scale and perform like the real thing. Kids can even use the wedge-shaped box as a ramp! Suggested retail price: $6.99. Available July 2010.
Grave Digger vs. Maximum Destruction Building Set
Monster Jam fans can experience extreme monster truck action with the Grave Digger vs. Maximum Destruction Building Set! This set comes with over 100 parts to build two of the most popular monster trucks in the Monster Jam fleet at the same time, and two K'NEXmen drivers to take the wheel. With both monster trucks powered by pull-back motors, kids can compete head-to-head or side-by-side, driving over ramps and crashing into spare tires and bricks - all included! The wedge-shaped box can be used as an extra ramp. Suggested retail price: $24.99. Available July 2010
Downhill Thrill Building Set
Young builders can bring the extreme action of the Monster Jam arena into their home with the Downhill Thrill Building Set. Set includes a Platinum edition Grave Digger monster truck equipped with motion activated Monster Jam sounds and 2' tall ramp to race the truck down! Platinum edition Grave Digger comes with a real working suspension, big chunky tires, authentic motion activated sounds such as a revving engine and cheering crowd, and is specially designed to perform the most amazing stunts that you might see at a Monster Jam event. Includes over 160 parts, including a buildable monster truck body shell that works within the K'NEX system. Other features include K'NEX man driver, authentic logos and graphics, step by step instructions, and a wedge shaped box that can be used as an additional ramp. Suggested retail price: $29.99. Available July 2010.
Micro-scale Truck Building Sets
Kids will enjoy these easy to build micro-scale versions of their favorite Monster Jam monster truck! The monster trucks are packaged two to a set and can be built at the same time for instant Monster Jam crashing fun. Sets include Grave Digger vs. Captain's Curse®, Maximum Destruction vs. Monster Mutt dalmatian and El Toro Loco vs. Monster Mutt. Suggested Retail Price: $5.99 Available September 2010.
All Monster Jam building sets are appropriate for children ages 5 and up. Step-by-step instructions are included. Visit http://www.knex.com to pre-order the new K'NEX Monster Jam building sets. For more information on Monster Jam, go to http://www.MonsterJam.com
About K'NEX Brands
Founded in 1992, K'NEX Brands, the world's most innovative construction toy company, was established to make and sell what has become one of the world's leading integrated construction systems for children. Winner of over 200 international awards and recognitions, American-made K'NEX encourages youngsters to "imagine, build and play." For more information, please visit http://www.knex.com.
About Feld Motor Sports
Feld Motor Sports, Inc. is the world leader in specialized arena and stadium-based motor sports entertainment. Feld Motor Sports, Inc. productions include Monster Jam®, SuperBull, Monster Energy Supercross, AMA Arenacross Series, Nuclear Cowboyz, Gravity Slashers, and IHRA® Nitro Jam®. Feld Motor Sports, Inc. is a division of Feld Entertainment, the world's largest producer of live family entertainment. For more information on Feld Entertainment, visit http://www.feldentertainment.com.
# # #