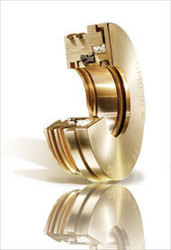 Garlock is known throughout the world for developing premier sealing solutions that works properly the first time, no questions asked
Palmyra, NY (PRWEB) March 11, 2010
The MICRO-TEC II is revolutionary and offers users protection unlike any other bearing isolator. MICRO-TEC II technology includes:

An engineered unitizing ring that eliminates metal to metal contact and significantly reduces energy consumption over traditional o-ring bearing isolators
A special microcellular filter that blocks out even the tiniest of particles to ensure your critical equipment continues running
A patented Cam-Lock system dramatically reduces installation time and expense by allowing easy installation at the equipment versus at a work bench using an arbor press
"Garlock is known throughout the world for developing premier sealing solutions that works properly the first time, no questions asked" says Earl Rogalski, senior product manager for Garlock. "Our development philosophy remains unchanged with the MICRO-TEC II seal and the supporting web site, offering superior technology that is easy use and works the first time."
MICRO-TEC II bearing isolators are available in standard sizes that range from 0.875" to over 11", in nearly limitless configurations and bronze or stainless steel construction. The MICRO-TEC II meets NEMA MG 1-2003, conforms to API 610 and surpasses the IEEE 841-2001 test standards. Typical applications for the MICRO-TEC II includes electric motors, pumps, food processing equipment, powder applications, fans and similarly configured applications. For more information, visit http://www.microtec2.com.
###