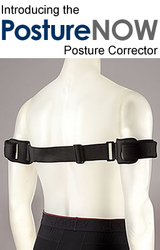 We thought it was just regular people like us, who sit at our computers all day, who suffer from bad posture
Portland, OR (PRWEB) March 11, 2010
The buzz surrounding this year's Academy Award ceremony focused more on the poor posture of some presenters than on the Vera Wang dresses or breakout performances of the nominees.
Miley Cyrus's poor posture attracted more attention than her champagne Jenny Packham gown, drawing criticism from entertainment writers and bloggers worldwide. Cyrus was joined by repeat slouching offender Kristen Stewart, whose slumped shoulders made her appear awkward on the red carpet. Some blamed the cut of the dresses and others blamed their youth, however, poor posture is becoming somewhat of an epidemic, even among Hollywood's glitterati.
"We thought it was just regular people like us, who sit at our computers all day, who suffer from bad posture," said Mike Lane, co-inventor of the PostureNOW posture brace. "But it turns out even celebrities whose livelihoods depend on their appearance aren't immune to poor posture."
Could a Posture Brace have helped?
"There are many ways to address one's poor posture, however, most require difficult exercises or confining, uncomfortable contraptions. This lead to the development of PostureNOW," said Matt Franklin, co-inventor of the PostureNOW posture brace. "The PostureNOW system is a simple way to improve your posture and could've really helped Miley this year."
Unlike traditional posture braces that are worn over the shoulders and can cause pinching and chafing, the PostureNOW posture brace is worn on the upper arms. A flexible tension band across the wearer's back uses passive resistance to provide a gentle reminder to pull shoulders back. This not only eliminates unsightly slouching and hunching, but also trains and strengthens back muscles vital for good posture.
Your posture is your body language. Research shows that people with good posture appear more confident and attractive than those with poor posture. Additionally, good posture can make you look 10 lbs lighter and up to two inches taller.
"Our goal is to help America stand straighter and taller. We look forward to seeing Miley on the red carpet again next year, but this time we hope she gives us a call first," said Mike Lane.
About PostureNOW
PostureNOW is the only posture corrector that is worn on the arms, rather than over the shoulders. PostureNOW uses soft, adjustable Neoprene armbands to gently pull the shoulders back, which reminds the wearer to remain in correct posture. PostureNOW is a quick and easy way to improve your posture in as little as ten minutes a day.
Media Contact:
Olga Walsh
(541) 306-0595
olga.walsh25(at)gmail(dot)com
http://www.posturenow.com
###