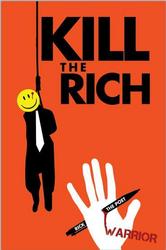 Think of it as giving society a trim, just a little of the top!
Jacksons Point, Ontario (PRWEB) March 12, 2010
In Kill the Rich, published by Outskirts Press, author RickthePoetWarrior offers his own modest proposal for social engineering shortcuts to save the planet from the unhealthy influences of the rich. His tongue-in-cheek approach encompasses all of the means they use to amass the majority of the wealth despite being the absolute minority of the population.
An apparent cousin to the down-to-earth members of the current Tea Party, RickthePoetWarrior exposes the rich's profit hungry activities through drug companies, the insurance industry, internet and cell phone service providers, and every other questionable financial piranha to the hard working man. Lawyers, of course, are fair game under his sometimes sharp, sometimes witty eye, as are multi-national oil companies and, as he says, "the gas they give" him.
In Kill the Rich all is not doom and gloom and conspiratorial mayhem, however. Rick's ultimate message is an appeal to the basic human value of treating others with dignity and respect and using a moral baseline to measure one's behavior. Could the rich benefit from that advice? Rick thinks so.
Kill the Rich is available on-line in paperback through Amazon and Barnes and Noble and at http://www.outgskirtspress.com/killtherich.
Genre: Fiction/general
Tags: Humor, politics, social action, satire
ISBN: 978-1-4327-3625-5
Format: paperback 86pg
SRP: $12.95US
About the author:
RickthePoetWarrior lives in Jacksons Point, Ontario and has published three other works: Call Nine One and Other Acts of Terror, How to Write Pro$eperly, and You Look Fatcalgary.
For more information or to contact the author, visit http://www.rickthepoetwarrior.com
###