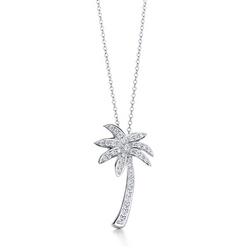 We take back a little bit of that star power from Hollywood and put it in our customers hands
San Jose, CA (PRWEB) March 15, 2010
Celebrity Silver, LLC., the US-based online retailer, which offers sterling silver jewelry incorporating the highest quality CZ diamonds that is aimed towards "budget minded shoppers with expensive tastes", launched a brand new web site this week. The new site, http://www.CelebritySilver.com, is designed in direct response to the ever growing demand for celebrity inspired jewelry designs. Celebrity Silver's focus is to promote the ultimate star or celebrity experience; from the first website visit and subsequent purchase, to when the customer wears their new, amazingly expensive looking jewelry out for the first time and notices the crowd looking her way, and maybe even snapping a picture.
CelebritySilver.com Chief Executive Officer, Adam Babish, says: "At Celebrity Silver we have found that our clients want to have a real celebrity experience. They have access to so many outlets that they are looking for something new and fun to incorporate into their collection. We found that our customers want to get the look of their favorite stars, and we love making that happen at a price point that fits each individual customer's budget. Some of the designs you see in a fashion or tabloid magazine can range up to several hundred thousand dollars and most of the viewers that read those magazines will never be able to afford anything close to those prices. We take back a little bit of that star power from Hollywood and put it in our customers hands."
Celebrity Silver is famous among its fan base for its striking celebrity-inspired sterling silver jewelry. By using AAA grade CZ diamonds, high polish rhodium plating techniques, sterling silver and gold, Celebrity Silver offers designs to help their customers steal the style for less. With the launch of the new website, Celebrity Silver bucks the trend with some very exciting offers, like free shipping on all orders. Celebrity Silver is so confident in its products they offer free return shipping, something many of their customer's don't offer. Additionally, Celebrity Silver gives its customers a very detailed, close up photograph of all of its products as well as an easy one page checkout and the top rated online security in the industry using VeriSign, authorize.net, PayPal checkout and Google checkout.
Celebrity Silver specializes in silver jewelry styles using necklaces, rings, bracelets and earrings. Some of the season's hottest red carpet designs are the pure heart sterling silver necklace, the celebrity inspired engagement rings section including Caitlyn's stunning cocktail engagement ring and the sterling silver palm tree necklace inspired by the movie "Fools Gold". To promote the launch of the new website Celebrity Silver will be offering an additional 10% off its already guaranteed low prices with coupon code: SAVE10 throughout the months of March and April.
For more information about Celebrity Silver or to view its collection of sterling silver celebrity jewelry, visit Celebrity Silver now or call 1(408)300-6042 to reach a sales representative.
Media Contact:
Adam Babish
Celebrity Silver
408-300-6042
press(at)celebritysilver(dot)com
###