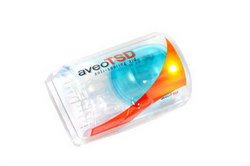 We are committed to working with users of the aveoTSD to refine this medical device so that it can be attached to the tongue even easier, making it considerably more comfortable to wear, and to achieve compliance", says Dr. Chris Robinson, orthodontic sle
(PRWEB) March 12, 2010
Snoring and sleep apnea are obstructive sleep disorders that negatively impact the personal health and relationships of sufferers. If lifestyle changes such as reducing weight and alcohol intake are ineffective, these sufferers face a completely new challenge - tolerating the treatment(s).
Patients with habitual snoring and Obstructive Sleep Apnea or OSA are often faced with clinically proven but costly and invasive treatments such as surgery, professionally fitted and non-fitted dental oral appliances, or a night-time breathing apparatus known as CPAP.
However, none of these clinically proven treatments are permanent and patients are often faced with repeated treatments at a rising cost. Patients must also endure the discomfort of many of the anti-snoring or OSA treatments. Even if the treatment is effective, long-term irritation often leads patients to discontinue use of the devices or treatments.
But how do you recognize the symptoms of snoring and sleep apnea and why can it be dangerous to your health? Snoring occurs when the tissues and muscles-particularly the tongue-in the upper airway relax, causing the airway to narrow and even completely obstruct. An obstructed airway reduces your oxygen intake throughout the night and can even cause you to stop breathing for short periods of time during sleep; this is what is called Obstructive Sleep Apnea (OSA). Repeated awakening caused by continued snoring and obstructive breathing also prevents a person from reaching the restorative (REM) stage of deep sleep.
Untreated habitual snoring and OSA are a growing concern, as these conditions lead to serious health risks. Studies show that OSA is linked to chronic health conditions such as cardiovascular disease, high blood pressure, heart attacks, stroke, dementia obesity as well as type2 diabetes. Another crucial concern is the impact on chronic date-time fatigue, which impedes a person's cognitive capacity, including the ability to function on the job and when driving.
There is a cost-effective and simple alternative for patients with habitual snoring and OSA. It's called the aveoTSD (Tongue Stabilizing Device) and is now more comfortable and even easier to use. Clinically proven to treat mild to moderate OSA, this oral appliance has been further refined by orthodontic sleep medicine specialists and engineers in New Zealand to help chronic sufferers achieve a comfortable night's sleep.
"We are committed to working with users of the aveoTSD to refine this medical device so that it can be attached to the tongue even easier, making it considerably more comfortable to wear, and to achieve compliance", says Dr. Chris Robinson, orthodontic sleep medicine specialist and inventor in New Zealand.
This Tongue Stabilizing Device attaches to the tongue through gentle suction, which stabilizes it so that it does not fall back and block the airway during sleep. The aveoTSD is easy to fit and does not require professional fitting. However, consulting your medical professional is recommended.
To find out more about the aveoTSD, visit http://www.aveosleep.ca
# # #