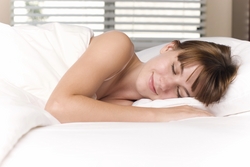 The bedroom should be used for rest and relaxation – a sanctuary.
Orange, CA (PRWEB) March 12, 2010
There is no disputing that humans need sleep or how much sleep is recommended for optimal results. But in the last 40 years, the amount of sleep we get has decreased to the point where our health and well-being has been impaired. The consequences of our poor sleep habits range from poor moods, decreased productivity, drowsy driving and heart conditions. The people at Budget Blinds suggest that making changes to your bedroom may help you get the Z's you need.
"Your bedroom should be a place where you can rest and relax so you can get the sleep you need to be your very best. Many people would benefit from spending a little time to create an environment that is conducive to sleep – cool, calm and dark," said Tracy Christman, Vendor Alliance director for Budget Blinds, the leading custom window coverings franchise.
Cool:
The best sleep environments are cool. Use window treatments to control the temperature in your rooms. Some treatments provide more insulation than other window treatments. Cellular shades are excellent insulators and can double the insulating ability of a double paned window. They can also help cut your energy costs by reducing how often your heater or air conditioning needs to operate to maintain indoor temperatures. Homeowners who choose programmable motorization for their window treatments can choose when to lower and lift the window treatments to block sun during the day to maintain the room temperature.
Calm:
The bedroom should be used for rest and relaxation – a sanctuary. Eliminating things that disturb your calm can summon the sandman. Start by eliminating clutter from your room and putting things in their place. Vacuum and clean regularly to remove dust and other allergens so you can breathe deeply. Choose a calming color palette such as blues, greens and purples for your room. Add plants like spider plant and peace lily to clean air naturally. Use drapery panels to soften harsh visual edges and dampen sound. Area rugs can be used to absorb sound as well.
Dark:
Light disrupts sleep. Some light sources are easy for you to control, like lamps, clocks and televisions. Other light sources, such as street lamps and bright moonlight, require a different approach. Use window coverings to block light so you can get the sleep you need.
Adding room-darkening privacy liners to your new window treatments will stop the most light. These are very helpful to shift workers. If light is seeping in through the gaps between your window treatment and the window frame, you may benefit from adding decorative touches that will cover the gaps like drapery panels or cornice boxes. If you're in the market for new blinds, routless louvers eliminate the tiny holes traditional blinds have. Another option is to cover the rout holes with cloth tapes, which also allow accent colors to be carried to the wall.
Programmable motorization can be used to open the window coverings in the morning allowing the sunlight to assist in the waking process. Simply program the window coverings to open about 15-30 minutes before your alarm clock rings, and you'll waken more naturally and calmly than with the audio alarm alone.
If these tips don't help homeowners get more and better quality sleep, it may be a good idea to see a doctor to rule out any other causes of poor sleep.
About Budget Blinds, Inc. and Home Franchise Concepts
Based in Orange, California, Budget Blinds, Inc. was founded in 1992 and currently boasts nearly 1,000 franchise territories serving nearly 4,000 cities throughout the United States and Canada. In 2006, the founders of Budget Blinds, Inc. created Home Franchise Concepts to be the parent company to Budget Blinds and its first sister concept, Closet Tailors. As consumer demand for its quality, convenient services continues to grow, Budget Blinds is on its way to dominating the multi-billion dollar window covering market. Budget Blinds has been recognized as a leader in the franchise industry by organizations such as Entrepreneur, AllBusiness, Inc. and Franchise Business Review. For more information on Budget Blinds please visit http://www.budgetblinds.com or call 1-800-519-6298 or our press room at http://www.budgetblinds.com/pressroom.
###