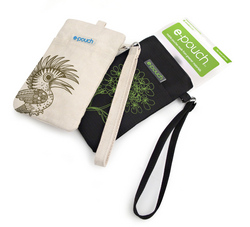 a range of functional, attractive and eco-friendly phone pouches without the 'green' price tag
(PRWEB) March 18, 2010
Available in Bamboo, Organic cotton or recycled plastic bottles (RPET), the E-POUCH ™ is constructed from clever combinations of these eco-friendly materials; from the outer fabrics and recycled filler, through to the recycled plastic strengthening elements and the recycled packaging.
Launched by Anokimobi in response to the growing demand for eco- friendly products without the 'green' price tag, the E-POUCH ™ provides environmentally aware retailers and consumers a green alternative to mobile phone pouches on sale in the high street. Even the e-pouch.co.uk website is hosted on a carbon–offset server.
Tom Tranter, Director of Anokimobi Ltd explains, "For the last few years Anokimobi has been designing and developing environmentally friendly products for the retail and promotional markets.
As specialists in the mobile phone accessory market it was a natural progression to design a range of functional, attractive and eco-friendly phone pouches without charging a 'green premium'; an extra cost which can inhibit uptake of many green products by both retailers and consumers.
And just because it's an eco-friendly product doesn't mean it has to be basic, we have produced the E-POUCH ™ in a variety of smart designs which incorporate clever integrated features. Within the range are plain E-POUCH ™ versions as well as pouches with printed designs, many of which are eco-themed which has been very well received by our test market."
Although initially Anokimobi are launching a range to suit the mobile phone market the E-POUCH ™ can also be used to hold cameras and Mp3 players. The E-pouch can be produced in any size or shape to house other electronic items and Anokimobi will shortly be launching a more protective, robust version suitable for the iPhone and other gadgets.
Versatile, stylish and low cost
The E-POUCH™ is made from eco-friendly, sustainable or recycled materials
The E-POUCH™ is designed to fit most mobile phones, Mp3 players and cameras
The E-POUCH™ does not carry a green price tag
The E-POUCH™ comes in a variety of styles, colours and prints
The E-POUCH™ can be made in any size and shape and can incorporate a variety of extra features
The E-POUCH™ has a Patent Pending status
Anokimobi are actively seeking worldwide distributors for the E-POUCH™.
###