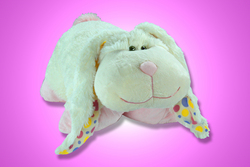 Atlanta, GA (PRWEB) March 12, 2010
Oceanside, CA – March 12, 2010 – A smart Easter bunny knows he shouldn't be hoppin' down the bunny trail this spring without a Pillow Pet in tow. A great gift any time of year, Pillow Pets currently highlights special springtime animals – three varieties of bunny, a duck and a lamb – to brighten a child's face and breathe new life into baskets this Easter. Snuggly Pillow Pets provide kids with a cuddly companion as well as the functionality of a full-size pillow.
"We've been in touch with the big bunny who prefers the Pillow Pets bunnies in pink or purple for obvious reasons, but particularly because you can only get them this time of year," said Jennifer Telfer, VP of Operations for My Pillow Pets. "However, the word we hear from children is that any of the Pillow Pet animals would be happily welcomed in their homes on Easter morning."
Made of ultra-soft chenille, Pillow Pets are much more than a stuffed animal. With a strap that closes underneath to transform the pillow into a friendly pet, they are an ideal travel pal, naptime buddy and all-around snuggly friend. Pillow Pets are available in jungle animals, farm critters and sea creatures – 20 different animals to choose from.
Pillow Pets are affordable with a "Special TV Offer" of just $19.95 at http://www.GetPillowPets.com with any additional Pillow Pet priced at $15.95 (up to five) and are machine washable, so they can stand up to a good "spring cleaning".
About Pillow Pets:
Since 2003, Pillow Pets have been bringing smiles to the faces of all ages. The concept for the snuggly companions was the brainchild of a San Diego-based mother of two, who had grown tired of picking up stuffed animals strewn across her children's rooms. What began with the simple goal of transforming a simple stuffed animal into a functional item for children has grown into an amazing jungle of popular retail and wholesale products. For more information, please visit http://www.GetPillowPets.com.
# # #