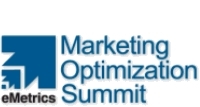 Canadian businesses may have initially been slower to adopt online marketing analytics than our US neighbours, but several indicators tell a different story for 2010
Toronto, Canada (PRWEB) March 11, 2010
The eMetrics Marketing Optimization Summit is set to deliver four days of workshops, training and over forty conference sessions focused on the processes, tools and techniques that improve online marketing, communications and business results. With the increased performance pressure placed on marketing budgets, the demand for professionals who know how to measure, recommend and introduce changes to improve marketing efforts, including social marketing efforts, is on the rise.
"Canadian businesses may have initially been slower to adopt online marketing analytics than our US neighbours, but several indicators tell a different story for 2010," says Andrea Hadley, Conference Director of the Toronto eMetrics Marketing Optimization Summit, adding that in February 2010 nearly 600 executives turned up to hear Jim Sterne, Chair of eMetrics and Founding Director of the Web Analytics Association (WAA) in Ottawa, Toronto and Montreal present on how businesses are measuring the results and value of their social media investment, a topic that will be expanded upon at the Toronto Summit April 6 to 9th, 2010.
Other indicators include a series of new hires and expansion into new services by several of Canada's top consultancies and solutions providers: IT World Canada Inc just launched the new division – Visability Marketing Optimization – which is poised to deliver marketing optimization solutions led by Sionne Roberts, eMetrics Toronto Advisory Board member and long time industry advocate. Syncapse, a global leader in the practice areas of digital measurement, social media and community building services just added several new employees to its measurement sciences division headed by Christopher Berry, eMetrics Toronto speaker and research lead for the Web Analytics Association. And Marco Bailetti, eMetrics Advisory Board member previously with Momentum is the new Senior Manager Marketing Analytics at Sapient Interactive and Consulting, where he'll use his 10+ years of expertise to enhance their offerings.
Montreal Web analytics evangelist and educator Stéphane Hamel says, "During our recent economic downturn, we continued to see steady increases in job opportunities as well as investment in web analytics tools, consulting and training" indicating that business interest and adoption of online marketing analytics in Canada is in a significant growth curve.
In April 2010 several hundred marketers, analysts and technology executives are expected to convene at the third annual Toronto Summit, diving deep into sessions, training and workshops, advancing their skills and employment prospects. Top executives from Expedia, MTV, Cisco, Microsoft, RBC and other well known brands will share their experiences, knowledge and proven methods:
Summit tracks include:
1. Marketing Optimization for E-marketing Management
2. Acquisition Optimization
3. Conversion Optimization
4. Emerging Media, Metrics and Technology
Preconference Workshops April 6 and 7th: Those new to web analytics can get up to speed with an Introduction to Web Analytics workshop developed by the Web Analytics Association (WAA). Those managing analytics and business intelligence can advance their web analytics maturity by following the Road Map to Online Analytics Success; while managers from marketing and IT have an opportunity to dive deep into Google Analytics training; and ecommerce and website managers can take a crash course in Landing Page Optimization .
About the eMetrics Toronto Advisory Board:
The eMetrics Marketing Optimization Summit is chaired by Jim Sterne, conference founder and Chairman of the WAA. Conference Director is Andrea Hadley, Canadian web marketing veteran and WAA Education co-Chair. The advisory board is comprised of the best and brightest in the marketing optimization field, including Alex Langshur president of the WAA and president and co-founder of PublicInsite; Stéphane Hamel, Director of the WAA, educator, blogger and consultant with Immeria.net; June Li, managing director of ClickInsight; Mike Sukmanowsky, Manager, Digital Analytics, Rogers Media; Jacques Warren president and founder of WAO Marketing Inc; Sionne Roberts, General Manager, Visability (a division of IT World Canada Inc); Kelly Kubrick, founder and president of Online Authority; Marco Bailetti, Sapient Technology; Patrick Glinski, Senior Strategist, Experience Architect, Idea Couture.
About the eMetrics Marketing Optimization Summit
Entering its ninth year, the eMetrics Marketing Optimization Summit consistently delivers insight on how to increase marketing ROI through optimization of campaigns, communications, content, the overall customer experience and satisfaction. The global conference series is recognized as the premier event for improving results of your digital marketing investment.
Media Contact:
Andrea Hadley
Conference Director
Tel: 604-985-0205
Email: ahadley (at) emetrics (dot) org
###