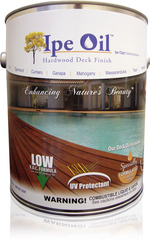 Gaffney, SC (Vocus) March 12, 2010
The IPE CLIP® Fastener Company, manufacturer of Ipe Clip® Hidden Deck Fasteners and the Hardwood Wrench™, is delighted to unveil their latest addition; Ipe Oil™ Hardwood Deck Finish. The Ipe Clip® Fastener Company already leads the industry by giving decks a seamless and beautiful look with unsurpassed strength due to their patented fasteners that fasten your deck with no screws showing on the surface. This new product is icing on the cake and adds to their already impressive line of edge mount hidden fasteners.
The new Ipe Oil™ deck finish features a special formula for Exotic Hardwoods to ensure superior protection. Anyone who owns a Hardwood deck has made an investment into a thing of beauty that will last for years; but that beauty still needs protection. Ipe Oil™ is formulated to dry properly on Ipe, Cumaru, Tigerwood, Mahogany and many other oily exotics that commonly cause finish drying problems for other brands of deck oil.
Ipe Oil™ Hardwood Deck protection is durable, stain resistant, and offers a clear finish that penetrates even the densest of hardwoods. Ipe Oil™ also utilizes Transoxide pigments for added grain enhancement and powerful U.V. screens. The formula also provides advanced protection from the damaging effects of extreme temperatures, humidity, mold, mildew, algae, rain, snow, and the sun's harmful rays.
Not only does Ipe Oil™ provide ultimate protection, this product is environmentally friendly.
Ipe Oil™ has low V.O.C. ratings with less then 250 grams per liter, well below the VOC content of many deck oil competitors. The Ipe Clip® Fastener Company has always taken pride in being a "Green Friendly" company; so this product fits right in.
Learn more about Ipe Oil™ Deck Oil.
About Ipe Clip Fastener Company
The IPE CLIP® Company manufactures patented Hidden Deck Fasteners that are premium grade stainless steel reinforced for a variety of hardwood & composite deck boards. The unique deck fastener design allows for fast and easy installation while giving the do-it-yourselfer and expert deck builder, a professionally finished look. The IPE CLIP® Company also offers the patent pending Hardwood Wrench™. This is a new one man, self-locking board straightening deck tool constructed form heavy duty aircraft grade aluminum. The tool is used to straighten bowed deck boards during installation. It cam locks into place and applies up to 80% more bending power and ease of use than other board straightening devices on the market. Please visit http://www.IpeClip.com or call 866-427-2547 to learn more.
###