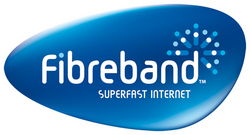 (PRWEB) March 12, 2010
Fibreband are pleased to announce they have successfully connected their first 100Mbps broadband customer in Bournemouth. The 100Mbps broadband service also features the ability to burst up to 1Gbps, and a random speed test revealed 336Mbps download speed, with 56Mbps upload speed. Fibreband are able to reach these speeds by utilising their Fibre Optic network, enabling speeds which are up to seven times faster than traditional copper networks, even at the same declared Mbps rate. This ensures consumers receive more of the connection speed they pay for.
Fibreband's first 100Mbps broadband consumer, Tom Collins commented 'The 100Mbps broadband is fantastic value for money especially as it includes phone and TV services. My broadband is now quicker than ever, I can watch countless videos online without losing the ability to do other online tasks. It's a truly amazing service, and I'd recommend it to anyone'.
Fibreband is working in partnership with Fibrecity in order to provide this service. Fibrecity are providing the Fibre, and Fibreband are providing consumers with the service. The service is being rolled out in the Bournemouth council area of BH11, and will shortly be rolled out throughout the Bournemouth region, with other counties following later in the year.
Matt Hawkins, Managing Director of Fibreband commented 'The interest and sign up rates for Fibreband have been exceptional. This will make Bournemouth amongst the first users in Britain to have a 100Mbps broadband service as standard, and will give businesses a significant advantage."
Fibreband provides consumers with three optional connection speeds; 25Mbps, 50Mbps and 100Mbps. Within every package Fibreband features free weekend calls, and over forty television channels, preparing users for the analogue switch-off later on this year. The Fibre Optic network Fibreband uses is designed to carry large amounts of information at a high speed, enabling Fibreband to provide users with all three services across the same fibre.
For more information regarding these services please call 08000 098 098 or visit http://www.fibreband.co.uk.
###