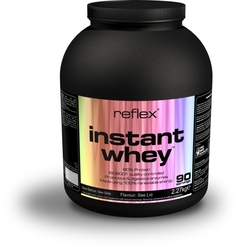 The turnaround has been the major development of a completely new flavouring process that is completely unique to Reflex Nutrition which still allows high protein contents in the 75%-76% range with flavours that are simply unbeaten
(PRWEB) March 13, 2010
Traditionally Reflex Nutrition has always concentrated on protein content first and then taste & texture. Today's immensely popular Instant Whey contains an industry high protein content of 80% in combination with a great range of flavours, it's a product that's also consistently tested by independent labs to prove its protein content and that's something unique within the market.
The research and development team at Reflex Nutrition have always known that it was perfectly possible to develop world beating flavours, however, it was deemed that the sacrifice in the protein content would be too high bringing the protein content down to 65-68%. The turnaround has been the major development of a completely new flavouring process that is completely unique to Reflex Nutrition which still allows high protein contents in the 75%-76% range with flavours that are simply unbeaten.
Taste is always something that's quite subjective and Reflex Nutrition wanted to find out how their new flavour system would go down with the general public, the results spoke for themselves, in a recent blind taste trial involving some 50 people the new Instant Whey Deluxe came out on top from a field of the top five selling whey protein powders. The icing on the cake was the fact that new Instant Whey Deluxe was also tested as having the highest protein content amongst the field of competitive proteins.
A firm release date is yet to be confirmed from Reflex Nutrition, however the plan is to have the product ready for people to buy at the Body Power show at the Birmingham NEC at the end of May. We can't wait.
###