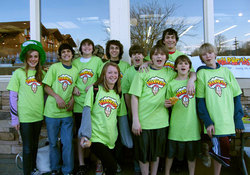 "WARHEADS has the best and most devoted fans in the world, and we know that they will assist in this important cause."
Colorado Springs, Colorado (PRWEB) March 13, 2010
WARHEADS, the authentic edgy sour candy, is partnering with two great organizations that are making a positive mark on the lives of people close to them – KIDS.
Hood Games (http://www.hoodgamesskate.com), an urban Skateboard Jam and Youth Arts Festival that blends skateboarding with live art, music, dance and fashion performances, was created in 2005 by Keith "K-Dub" Williams, an art teacher in Oakland for over 10 years and a Board Director with the Museum of Children's Art in Oakland. Taking place in inner-city communities across the West Coast, these events create a positive and uplifting environment for kids to showcase their skateboarding and artistic skills. Hood Games prides itself on getting professional skateboarders to skate with the youth and share their skills and talents. The skate industries top skaters such as Paul "P-Rod" Rodriguez, Terry Kennedy, Ray Barbee, Stevie Williams and Karl Watson have supported the dozens of events that have taken place. WARHEADS partnership will help to purchase art supplies and WARHEADS will donate candy and other merchandise to support this great organization. In addition, the Hood Games youth art crew will help to paint the WARHEADS Skatepark at the ESPN Summer X Games 16 this Summer in Los Angeles, CA. The skatepark will be donated to Hood Games after the Summer X Games. "We are so excited to have WARHEADS as a partner in 2010. Their involvement will allow us to expand our events, and the WARHEADS candy is a huge hit at our events", states Keith Williams.
In addition to this great group, WARHEADS is supporting the St. Baldrick's Foundation (http://www.stbaldricks.org), a leading organization in the fight against childhood cancer. Started in 2000, the St. Baldrick's foundation hosts an annual event around St. Patrick's Day, in which volunteers shave their heads in solidarity of children that have cancer. Over $74 million in donations in 24 countries and all 50 states has been raised in the nine years of the event. The "WARHEADS for Baldheads" Team from Centennial Middle School in Boulder, Colorado, as well as some WARHEADS company members, will be shaving their heads on March 18th in support of this great cause. "We have reached out to our more than 200,000 Facebook fans to help raise donations to support the team and this important foundation," states WARHEADS Consumer Marketing Manager, Tony Porter. "WARHEADS has the best and most devoted fans in the world, and we know that they will assist in this important cause. We have even heard from childhood cancer survivors on our WARHEADS Facebook page thanking us for our involvement. That just reinforcesour core belief in helping to create a better life for our devoted fans – KIDS. Both the Hood Games and the St. Baldrick's Foundation are great examples of organizations making a mark on kid's lives."
The WARHEADS brand is part of the Impact Confections leading portfolio of candy. Mass merchants, convenience, drug and grocery stores all turn to Impact Confections as the pacesetter in interactive candies. As a leading innovator for confectionery candies, Impact Confections is the recipient of numerous coveted industry awards for product originality. The company's diverse product portfolio encompasses such leading consumer brands as WARHEADS®, Lollipop Paint Shop®, and Carousel Pop. Impact Confections, Inc. also owns Melster Candies in Cambridge, WI, where it produces well known traditional goodies such as Circus Peanuts, Peanut Butter Kisses, Salt Water Taffy, Coconut Toasties, Chocolate Covered Marshmallow, and Crème Drops.
###