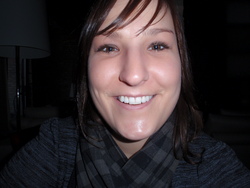 "She has the creative talent, the motivation and the smarts." - Naveed Usman
Lincolnshire, IL (PRWEB) March 15, 2010
The Usman Group, Chicago has announced that Krista Jancik will join their team into 2010, as they gear up to explode to the forefront of the Creative Internet Marketing scene.
In her new role, Jancik will be the Senior Media Strategist and the public voice to all social endeavors. Using creative tactics and social channels, Jancik hopes to increase awareness to make Usman Group the obvious web choice moving forward.
Jancik brings a go-getter attitude and 4 years of design and creative experience to the table. Her hip and laid-back personality clicks well with today's internet savvy perspectives and her approachable demeanor encourages communication.
"The moment we met Krista, we knew she'd bring immense value to the Usman Group. She's a triple threat - She has the creative talent, the motivation and the smarts - all the qualities we look for in a teammate - and we're extremely picky on the kinds of people we add to our team. She fits in perfectly." - Naveed Usman
About the Usman Group
The Usman Group is a Chicago web design agency that balances thoughtful website design services with effective search engine positioning for exceptional ROI.
Their crew is a careful collective of creative strategists, analysts, designers, developers, writers and thinkers (bordering on obsessive compulsive). They help businesses, non-profits, associations, universities, and institutions understand how to use the Internet to their advantage.
# # #