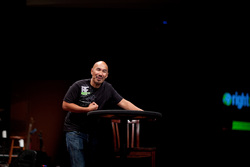 Our hope is that church leaders will begin to dream about their own unique mission and strategy as a church.
Dallas, TX (PRWEB) March 15, 2010
Within church culture, it can be challenging to lead people to give up their personal agendas and comforts. Consumerism has crept its way into the church, tempting people to become customers rather than servants who are willing to give up self and serve a world in need.
RightNow is fighting hard against the pervasive cultural tide. In November of last year, they held the RightNow Leadership Conference in Dallas and the theme was The Mission of the Church Matters. Respected Christian pastors and leaders such as Francis Chan, Matt Chandler, George Barna, and Mark Batterson encouraged over 2,300 young adult church leaders to be on mission with Christ.
A few months after the conference, in order for the message to stretch further and reach those who couldn't attend the conference, the RightNow creative team turned all the video footage from the conference into a leadership development kit for church leaders based off the six main teaching sessions from the conference:

Francis Chan- Leading People Beyond Comfort
Matt Chandler- The Power of the Resurrection
Mark Batterson- Unleashing Caged Christians
Tim Ross- Are You Worth Following?
Alan Danielson- The Mission of Small Groups
George Barna- Fundamentals of Master Leaders
"We created the RightNow Leadership Kit so that pastors could lead their staff and leaders through the 6 sessions as a retreat or as part of their regular meeting times," said Brian Mosley, President of RightNow. "Our hope is that church leaders will begin to dream about their own unique mission and strategy as a church."
The RightNow Church Leadership Development Kit has been designed to help church leaders make followers of Christ (traders) who are willing to trade in their time, money, and comfort for a world that needs Christ. A trader is a new kind of missionary that is not defined by geography, but is marked by a willingness to apply the Parable of the Good Samaritan in Luke 10:25-37 and "go and do likewise."
Packed inside The Rightnow Church Leadership Development Kit are real-life stories of churches and people putting their faith into action, cinematic illustrations about the mission of the church, session DVD's, and a facilitator's guide with discussion questions, articles, and personal devotionals.
"I love serving as a volunteer leader in my own church. RightNow created this resource because I know how crucial it is to develop leaders within the church... but it can be so tough to find the right time and format to do it effectively," said Mosley.
The 2010 RightNow Leadership Conference, Lead Beyond Our Walls, will be held November 11-12 in Dallas and will feature Max Lucado, David Nasser, Dr. Tony Evans, Todd Phillips, and more. For more information about the 2010 conference and the RightNow Leadership Development Kit, visit RightNow.org.
RightNow's mission is to help people trade in the pursuit of the American Dream for a world that desperately needs Christ.
Contact:
Samantha Krieger
Writer/Content Editor
RightNow
972.560.5600
http://www.rightnow.org
###