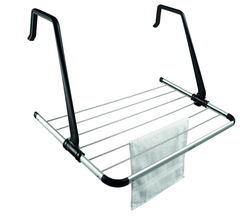 Brabantia's new 100% compostable trash bin liners, new Knife Block, crafted from solid, sustainable Ash wood, and our laundry drying rack which reduces the use of electricity, embody our commitment to quality, craftsmanship and eco-friendliness.
Woodcliff Lake, NJ (PRWEB) March 12, 2010
Brabantia Solid Company, one of Europe's oldest and most respected designers and manufacturers of high end, high quality and high style home steelware products, will debut a selection of new eco-friendly, sustainable and artfully designed offerings at the 2010 International Home and Housewares Show in Chicago, March 14-16, 2010.
"In keeping with Brabantia's well known European tradition of designing and manufacturing intelligently designed, eco-friendly household items, we are excited to unveil some of our new products for the U.S. market at the Chicago Home & Housewares Show," said Nicole Gnudi, Managing Director of Brabantia USA. "Now, more than ever, we realize the importance of our commitment to environmental responsibility. Three of our new items, our 100% compostable trash bin liners, new Knife Block, crafted from solid, sustainable Ash wood that bears the Forest Stewardship Council (FSC) certification, and our over-the-door laundry drying rack which reduces the use of electricity, echo that commitment. We are certain savvy, green-minded US shoppers will appreciate our products' quality, craftsmanship and eco-friendliness."
Among the exciting new products that Brabantia will be featuring at the Show, are:
100% Compostable Trash Bin Liners: Good for the Earth and Your Kitchen
Made of 100% natural cornstarch, Brabantia's new bin liners are made to fit our stable of waste cans and recycling bins. Because they are made of completely natural materials, they will break down into smaller, natural components in a compost pile, making them one of the most environmentally friendly bags on the market – and, they come wrapped in packaging that is also 100% compostable. The new bin liners are simple to use – just match the letter code and color on the outside of the bag with the letter and color inside your Brabantia bin to find the perfect size. Boost your green profile by using these bags that are good for your kitchen and for the planet. Available in two sizes: 10 and 18 litre.
Price: $9.00 for a bag of 20.
Whimsical, Colorful Silicone Hot Pads Protect Surfaces with Panache
Protect tables, countertops and even your ironing board with these colorful, fashionable heavy duty heat resistant silicone hot pads. Four different, modern-inspired hot pads make for stylish protection in the kitchen or laundry room – set your iron down on them or use as trivets for hot pans and bakeware right from the oven. So chic and conversational, you'll keep them on your counter and table all the time. Choose one or all of four different designs: iron (blue), coffee mug (black), tea pot (red) and soup tureen (white).
Price: $15 each
Solid Ash Knife Block Swivels to Deliver the Right Knife at the Right Moment
To house our new line of high performance, heavy duty, ergonomically designed stainless steel kitchen knives, Brabantia unveils a sleek, modern, and smart wooden Knife Block crafted from sustainably grown Ash harvested from trees managed and protected by the Forest Stewardship Council (FSW), an international non-profit organization which promotes socially and environmentally responsible forestry. With five individually sized vertical slots to hold a different knife, the new Knife Block is mounted on a stainless steel base which rotates for ease of use as well as extra convenience. Silicone feet keep the Knife Block in place on your kitchen countertop. Available knives include a Chef's Knife, Bread Knife, Fruit/Utility Knife, Meat Knife and Sharpening Steel. Knives sold separately.
Price: $60
Over the Door Laundry Drying Rack Embodies Smart, Space-Saving Design
Ideal for small spaces such as bathrooms, doors or balconies, Brabantia's new Door Drying Rack makes laundry easy, efficient and eco-friendly by eliminating the need for electricity. Constructed of high grade, corrosion-resistant materials, with high gloss stainless steel rails, this durable and attractive unit features a protective non slip coating designed to prevent damage to both laundry and mounting surfaces. Comes with a patented rounded rail attachment as well as a 10-year parts and materials guarantee. 22 pound weight capacity.
Price: $70
With headquarters in The Netherlands and offices around the world, as well as a branch just outside Manhattan, Brabantia is rapidly becoming a market leader in the United States. To view the Brabantia products at the Home & Housewares Show, please visit BOOTH #S4439 – South Hall.
About Brabantia
At Brabantia, the domestic items of tomorrow are what we are producing today. Our products are designed to retain their style and performance for decades. It's more than a guarantee. It's what drives the company. Brabantia products are available at fine retailers such as Williams Sonoma, Crate and Barrel and Gracious Home, as well as The Container Store and Macys.com. For more information, visit http://www.brabantia.com.
###