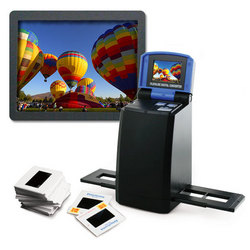 Sometimes we hear about slides that were passed down from parents and grandparents and have been sitting in a closet for decades
Colonial Heights, VA (PRWEB) March 12, 2010
A new 35mm slide scanner featured by catalog and online marketer firstSTREET offers a unique benefit sure to be appreciated by those who want to convert negatives and slides to digital format: With this scanner, no computer is required for the process. That particular feature means that more people can use the device and memories can be preserved more easily—basically, with the push of a button. Digital copies can be scanned directly to an SD memory card for instant viewing on any digital photo frame—or, for those who prefer, images can also be uploaded to a PC, using the USB cord that comes with the scanner. The scanner can use the USB or AC for power.
The firstSTREET stand-alone scanner scans 35mm mounted slides, as well as monochrome or color film. It allows the user to create digital copies with images scanned at 5 megapixels, and the quality of the scanned image is amazingly good, says Tim Hoerrner, firstSTREET's Vice President for Catalog and Internet. Mr. Hoerrner characterizes the conversion as a quick and simple process, and firstSTREET promotes the device as easy to use and easy to understand. A visual assessment reveals a simple exterior design: an SD/MMC card slot and a cartridge slot on the sides, and a card status indicator and a scan button on the front. Three white LEDs serve as the light source.
The scanner is lightweight and compact, taking up only a small amount of space on a crowded desk, a coffee table, or a shelf when it's not in use. It's also convenient to take along for a slide show on a beach vacation, a family get-together, or a class reunion.
For 35mm slide and negative scanning, there is basically a three-step process: 1) Insert slides or film into one of the trays that come with the scanner. 2) Insert the tray into the scanner. 3) Press the scan button. Editing is easier, too, because the scanner features automatic color balancing and exposure controls. "That automatic adjustment of brightness and contrast really makes a difference," says Mr. Hoerrner. "Even with the bad quality of a really old slide, you can end up with a very good scan."
A big plus is price. Mr. Hoerrner points out that compared to other 35mm slide scanners that often cost several hundred dollars, firstSTREET's model is quite reasonably priced. He says buyers are appreciating that difference, and they are also clearly enjoying the chance to look at and edit the slides and negatives that have been around the house for years, converting them to digital where they can once again be enjoyed. "Sometimes we hear about slides that were passed down from parents and grandparents and have been sitting in a closet for decades," he says—"years after the old slide projector and the slide trays are long gone. Instead of throwing the slides away, someone will buy our scanners, and everyone in the family is able to able to go on this amazing nostalgia trip."
After the slides are converted, the user can then set up his or her own slide show and view it on the 2.4-inch color display, or connect to a computer or a TV and invite the whole family in. The scanner comes with a slide cartridge, photo-editing software, a USB cable, a User Guide, and a Quick Start Guide.
###