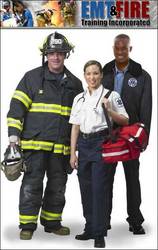 No other EMT program or academy in the world offers the quality, content and convenience of our courses.
Hayden, ID (PRWEB) March 12, 2010
EMT & Fire Training Inc., a proprietary EMS and firefighting school is now offering EMT classes online. The self paced, online EMT B training course allows students to complete all lessons, activities and quizzes online according to the student's schedule. The course then culminates with students attending an in person, practical skills week. Students spend 5 days at the EMT & Fire Training facilities at Camp Mivoden on Hayden Lake, Idaho. There they receive the hands on training necessary for competency in the required EMS skills.
The EMT B training course is all inclusive with expert instruction, lodging, meals and airport shuttle provided during the five day stay. "We wanted to give students the best learning environment possible and minimize the logistical concerns associated with attending EMT classes," said Scott Reasor, EMT & Fire Training Inc. Instructor and Director of Operations. He added, "Our EMT classes have about three hundred and thirty hours of course work for a student to complete. Two hundred and ninety hours of online lectures, interactivities and assessments and then 40 hours of intensive hands on training at our facilities. No other EMT program or academy in the world offers the quality, content and convenience of our courses."
EMT & Fire Training Inc. online EMT classes currently follow the EMT Basic National Standard Curriculum, but the company's instructors are poised to begin introducing the new skills and information over the upcoming months. "We have to wait for the new textbooks to be published before we can move forward with the new EMS Educational Standards," said Reasor. "Our program is ready....right on the bleeding edge," he said, laughing.
It's not common for an EMT course to be all inclusive in a resort like setting with an indoor swimming pool and Jacuzzi, lakeside meals and accommodations, but that certainly is a selling point for the classes."
Students won't have a ton of time outside of the classroom to pursue recreational activities, but when they do have free time there are canoes and water bikes available at no charge, about 500 acres of wilderness to explore, a climbing wall and ropes course on scheduled occasions, and of course the heated pool and lakeside Jacuzzi," said Reasor."We believe students will have a much better learning experience in the quiet, comfortable and fun atmosphere that we provide," he stated.
"We have an excellent group of instructors who love to teach," said Reasor. "We are all dedicated to passing on the core of knowledge necessary to work effectively in EMS. Our instructors have taught hundreds of classes over the years as well as helped over 24,000 EMTs and paramedics prepare for the NREMT exam. That is a lot of experience." Reasor added.
To learn more about EMT & Fire Training Inc. online EMT classes visit http://www.emtfiretraining.com. EMT class schedules, facilities, instructor and training details can all be found on the website.
Contact:
Scott Reasor
Director of Operations
Paramedic Firefighter
http://www.emtfiretraining.com
208-651-2739
###