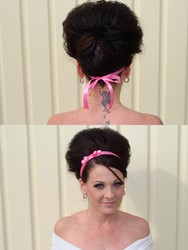 "We try to offer our students fun alternatives to typical classroom training"
Upland, CA (PRWEB) March 12, 2010
Salon Success Academies was founded in 1960, with February marking 50 years in business for the Inland Empire beauty schools. To kick-off the school's year-long anniversary celebration, they held a "Groovy 60s Makeover Contest" for their current students.
"We try to offer our students fun alternatives to typical classroom training," explained Robert Gross, owner of Salon Success Academies. "Hands-on practice is a huge part of our curriculum, and we like to give our students creative outlets where they can practice what they've learned. Makeover contests are just one of the ways we do that."
Students had to create looks inspired by the 1960s –beehives, "hippy" looks, and Twiggy inspired makeup were all part of the entries. The contest received over 30 entries from students at all five campuses. For most students, creating the styles and working hard in school to match the theme of the contest is a big part of the fun. But this time, the voting for the People's Choice award stole the show. Over 1,000 votes were cast during the week-long voting period!
Salon Success Academies awarded one grand prize to a student from each campus, five in all, and then allowed the general public to choose the winner of the coveted People's Choice award. All of the entries were posted on a special website, where anyone could vote for their favorite makeover.
"We can't believe how many people voted on the contest entries," said Susan Turner, Vice President of Salon Success Academies. "It really shows the dedication that our students have to their new careers and the wonderful level of support they receive from friends and family."
The winner of the People's Choice Award, Suzanne Mugiishi, received over 100 votes. The Grand Prize winners from each campus were: Analisa Lopes, Upland; Ashley Diaz Cueva, Corona; Michelle Trujillo, Fontana; Elizabeth Botello, San Bernadino; and Trevor Guzman, Redlands.
To see the entries for the contest, you can visit http://www.facebook.com/album.php?aid=395496&id=110342745004
Become a fan of Salon Success Academies and find out about future contests by visiting http://www.facebook.com/salonsuccessacademies
About Salon Success Academies
Salon Success Academy offers five locations in California's Inland Empire, in Redlands, Fontana, Upland, San Bernardino, and Corona. Our mission at SSA involves caring for every student as a member of our family, furnishing the chance to finish their educational objectives as affordably as possible. SSA incorporates first-hand, real-world practice of the principles of cosmetology, skin care, and nail artistry. The campus teams with members of the beauty industry to ensure that graduates possess the technical and customer service skills to succeed in their careers. For more information go to http://www.gotobeautyschool.com or call 1-877-987-HAIR (4247).
About Effective Student Marketing
Effective Student Marketing, Inc. is a strategic marketing organization that specializes in generating student leads and enrollments for career, technical, and vocational schools across the country through the use of Internet marketing tools and techniques.
The team at ESM combines experience working on the school-side with skills in the latest technology to create programs that can meet any school's needs. Student marketing and recruitment programs can include online reputation management, social media marketing, cost per lead vendor management, search engine advertising, search engine optimization, and e-newsletter production and distribution. For more information, go to http://www.effectivestudentmarketing.com.
Effective Student Marketing will be exhibiting at the American Association of Cosmetology Schools (AACS) conference on March 20-22, 2010.
###